Why tech implementation projects fail and what can you do to save them
by Clare Brown on November 1, 2022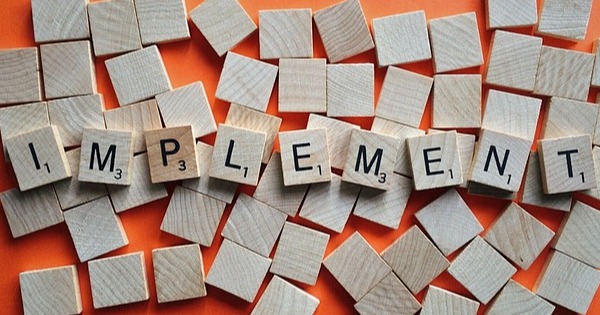 Legal tech investment and expectations are at an all-time high. But how do you know the best ways to approach a tech implementation project to ensure success for you, your team, your end users and your clients? The more preparation and planning you do beforehand, you can avoid project pitfalls and be more certain of success.
Team Vable has worked with many law firms and in-house legal departments and we wanted to share some practical advice so that you can benefit from other people's experiences. Read on for some thoughts about understanding the benefits of technology, how you go about getting your project started, mitigating the risk of failure and some real-life do's and don'ts.
Understand the benefits of implementing new technologies
Finding a balance between the benefits and the costs in any tech implementation project is crucial. There has to be an open and transparent dialogue between the vendor and the customer. The vendor has to be honest about the investment of time and effort, and the customer has to allow for appropriate resources to ensure success.
For instance, with current awareness automation, people want to reduce time spent on manual processes and automating repetitive operations but it needs staff commitment and training to get it up and running. However, once this initial investment has been completed, end-users can reap the benefits and make the most of unexpected opportunities.
In short, lawyers and other end-users,
Can improve their knowhow and stay up-to-date with current trends and developments
Can ensure an uncluttered inbox
Can enjoy standardised and professional alerts and newsletters
Can improve both internal and external communication - standardising content and removing the fear of missing out
It's not just current awareness workflows. Tech competency in all aspects of the business is essential to win and maintain clients. As the Wolters Kluwer survey says,
"the increased use of and investment in technology solutions continued in 2022…Law firms, confronted with changing client expectations, the demand for higher productivity and growing competition, are also turning to technology for help".
Technology can "help" but you need to understand the specific and measurable benefits of whatever tech you are implementing - and what problem it will solve. You have to be clear as to why you are embarking on a project, and how it will impact you and your colleagues.
Getting started with your legal tech implementation project
Getting the right people involved is essential for the success of the project. For example, the case study session from the recent BIALL conference reminded us that project management expertise and assistance might be available from unexpected places in your organisation. Clearly, this is dependent on the culture of the organisation and its approach to tech rollouts.
I spoke at length with a project manager who rolled out Vable in their organisation. It became apparent that although an in-depth understanding of all the issues the organisation faced was essential, a project manager needs personality and drive. They explained the need to make the rollout fun and engaging, whilst maintaining control and purpose.
This project manager's implementation plan had a strict timetable and ensured that the right people were included in the different parts of the process. As the plan progressed, they hosted regular sessions with their pilot group to assess progress and get feedback. In each session, they highlighted the benefits of current awareness excellence rather than the costs to end users!
And finally, this person told me that they needed to constantly measure the effectiveness of the ongoing rollout. Success stories, usage and other relevant metrics that demonstrate the implementation progress can be incorporated into roadshows and presentations to justify the investment of time and resources in ongoing technological investments and training programmes.
Learning from previous mistakes and managing the risk of failure
This project manager explained that even failures can be helpful. If something doesn't go to plan, an agile project manager can incorporate adjustments into future iterations of the planned rollout. This is why despite failures, organisations may continue their tech implementation process and learn from them.
There are several ways to mitigate the risk of failure when implementing new technology and happily it has become the norm to talk about failures and learn from them. Related to this openness, a recent article asked for examples of legal tech failure for use in future articles, for instance, stating the following as food for thought;
Software services failing to meet client expectations
Poor project management
Poor uptake of tech after implementation


Legal tech implementation projects can stumble and fail at any point; the wrong product, the wrong people or even the wrong time! All we can do is be prepared for any eventuality and take heed of the following do's and don'ts, as taken from the conversation I had with the project manager.

Dos and don'ts of legal tech implementation projects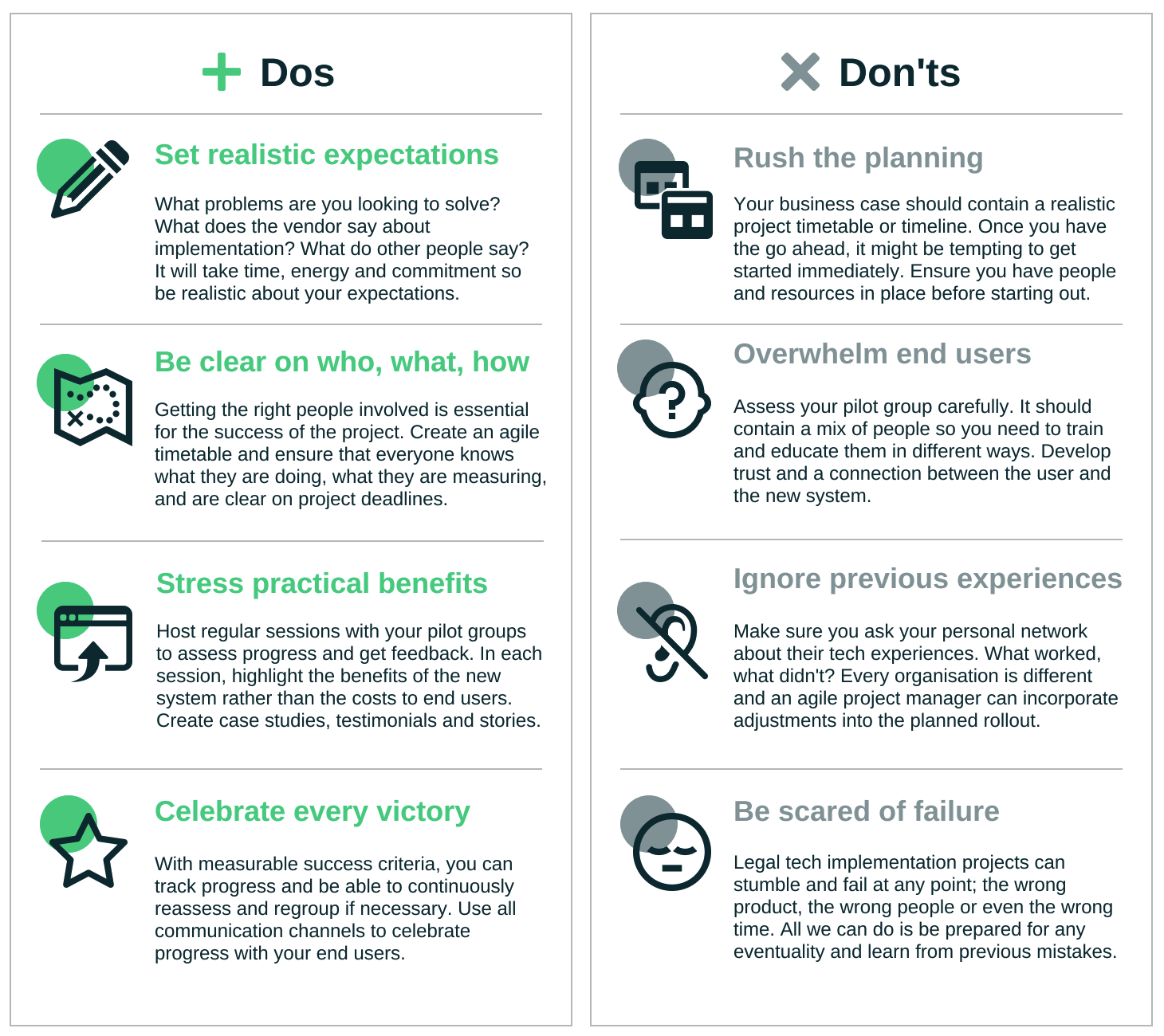 Final thoughts
All of the points above relate to the importance of putting the needs of your end users first. Without their interest and engagement, a project such as the automation of your current awareness will not be as successful as it should be. How we get people excited and turn them into champions will be influenced by the culture of the organisation and the personality and drive of the project manager.