As a library and information professional, you're responsible for managing the current awareness component of the email inboxes for your entire organisation. It's no easy task.
Although many email clients have created tools like filters and folders to try to keep up with the deluge of email we receive each day, these tools are piecemeal at best, and none are specifically targeted at the problems faced by library, information and knowledge departments.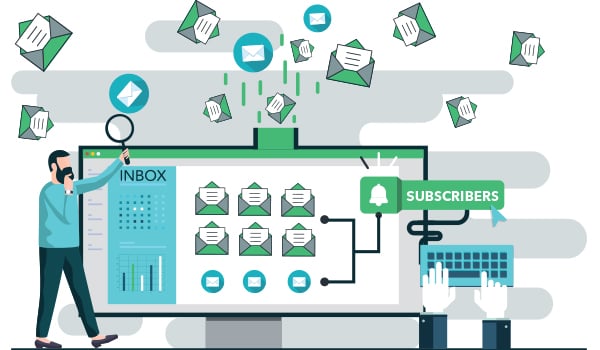 For example, a regular email tool won't keep your user list up-to-date by syncing with your firm's active directory - saving you money on email subscriptions that are priced per user.
Vable Inbox will save you time and money
You will time and have greater visibility of what end-users are receiving by having a central management tool to add (and remove) users from all their relevant subscriptions in one location, with complete visibility of the subscriptions available.
If you're sending paid-for newsletters to people who simply aren't reading them, this is a drain on resources. Some publishers provide usage statistics for their emails, but often these vary from one publisher to the next, making it difficult to compare usage across the board.
Without being able to track comparable statistics to see what content is actually the most valuable to readers, you won't know whether the subscription is truly a justifiable expenditure at budget renewal time.
Provide added value to your forwarded emails
Without an automatic way to remove certain parts of an email, one user may accidentally unsubscribe the entire firm. A specialist tool could automatically clean up emails to remove things like salutations and unsubscribe links to better present the emails and prevent problems that could result from accidental unsubscribes. This is simply not possible if you are using a standard email client.
Another problem with forwarding licensed content is that you may need to provide access information, like login details, or inform the subscribers of limitations on sharing the content. Simple email forwarding doesn't give you an automated way to insert these details into the header or footer.
Vable listens to what their clients want
These are the sorts of problems that we have been hearing about from our clients, and which we had in mind when we created Vable Inbox - our automated email forwarding solution that allows you to manage and redirect incoming newsletters, alerts and e-journals within your organisation.
With Vable Inbox, you can manage your user list, track statistics across all your publications, add value to the emails you forward, save time, and more - adding up to greater control over your entire organisation's inbox. If you'd like a trial of this solution, click below to get in touch.