Librarians as content creators: Are you an untapped resource?
by Clare Brown on February 24, 2020
I want to convince you that you should be involved with creating content. Why?
Information managers aren't always the obvious choice when an organisation is looking for website or social media content creators, but it's time our library management skills were recognised and deployed in a different way. We are skilled and flexible communicators, and able to produce all types of content for many different audiences.
From my own experience, a lawyer once said he wanted to make my library and information manager's role more interesting, and asked me to contribute to his department's marketing initiative. What he was actually saying was, "I recognise that you can make a difference to the potential clients that we want to reach".
But first, let's get through the jargon.
What is a content creator?
Put simply, a content creator is anyone who contributes information to any kind of media. It depends on their target audience. They might have industry expertise or they will extensively research and create bespoke material around a particular topic - or both.
Normally when we think of content, it includes web page copy, blogs, social media posts, ebooks, or newsletters. However it's not just words; pictures, gifs, illustrations, and graphics can speak volumes to an audience. Also popular are videos, movies, webinars, and podcasts, all of which require interesting and well thought-out direction and presentations.
Technological developments mean that organisations need content in unexpected places. Customer service platforms (such as Intercom, Drift, HelpCrunch) and chatbots require customisation to ensure a fluent and appropriate level of communication with your valued clients and end-users. The last thing you want to do is alienate people with clunky AI dialogue and impersonal automated messages.
What is content marketing and why is it important?
One widely accepted definition:
Content marketing is a strategic marketing approach focused on creating and distributing valuable, relevant, and consistent content to attract and retain a clearly defined audience — and, ultimately, to drive profitable customer action. Instead of pitching your products or services, you are providing truly relevant and useful content to your prospects and customers to help them solve their issues."
Problems of library visibility? Content marketing will get you noticed; successful content marketing will catapult you into the sharing, social sphere. For example, one US public library put a sign on a clock face which said 'time to go to the library'. It's eye catching, humorous, and importantly instagrammable/tweetable.
The resulting tweet said "My friend sent me this photo of how his local library 'fixed' the clock outside their building. Who says libraries don't know how to market themselves??". Indeed! Public libraries are telling their stories through content marketing and audience personas.
Although that sign isn't strictly content in the same way a blog post might be, it still encouraged me to find out more about Baldwin Public Library online. I can confirm they are inventive, creative and as community minded as their quirky sign would suggest. Their content strategy is clearly in line with the definition above.
Management of library content marketing
Arguably our entire role is ensuring that people have the necessary skills to find the information they want. In the usual course of library and information management business, there are two main reasons why we create content: namely, user education, and user engagement. Both require an investment of creative effort, and both need a distinctive voice.
User education: for example, instruction manuals with infographics, pre-recorded videos and webinars, workshops, 1-to-1 trouble-shooting, training courses
User engagement: for example, community and organisational current awareness newsletters containing helpful hints and new developments, online community building through social media, or a library blog, intranet, or webpage.
Although not strictly user focused, we also produce documents for internal library management purposes, such as business cases, management of finances, and report writing - yet another voice. We already qualify as content creators and it is part of our day-to-day role - so what should you say when someone asks you to produce something different? (Hint: always yes!)
An example of library content marketing
Most legal information professionals will know the current awareness page on the Inner Temple library site. It is an excellent example of content marketing, as defined above. Although there is no public access to the library collection, and it serves a defined set of end-users (barristers, judges and students of the Bar) the library staff produce a valuable daily email to which anyone can subscribe.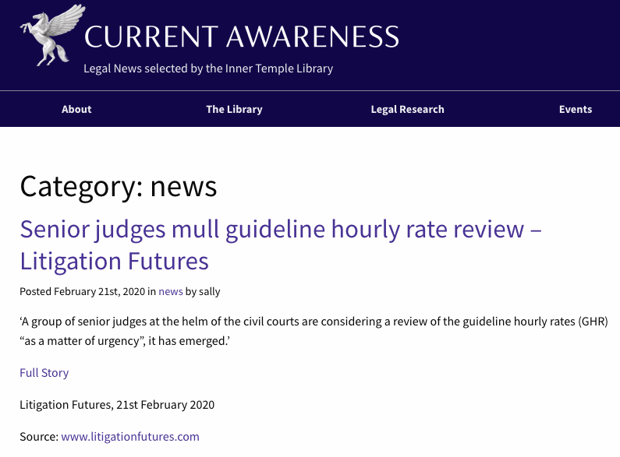 They state that "the aim of this selective current awareness blog is to provide up-to-date information on new case law, changes in legislation, and legal news, which we hope will be of interest to lawyers practising in the UK. Coverage is restricted to England and Wales. The content is selected and updated daily by information professionals on the staff of the Inner Temple Library in London."
And it's not just their daily current awareness which is useful, the library's freely available legal research and training guides have helped me with my own material on many occasions. By enabling librarians, lawyers and others to access their free content, they are contributing to the visibility of their own expert members and raising their own profile. Everyone is a winner.
Extending your organisation's content reach
We are communication experts with an unrivalled ability to process information and spot trends. Let your managers know you are an untapped resource, ready to create, commission, research, design or inspire quality content across all platforms both internally and externally. We can really make a difference to the potential clients that we want to reach.
Whether this is through the organisation's own site, guest blogging for a specialist blog, or a current awareness and news aggregation site, good content generates visibility and web traffic. And don't forget that online success generates measurable data; more visitors, more conversions, more demonstrable proof that we are essential to our organisations.
Although we must not get distracted from our day-to-day library role, with appropriate recognition and remuneration, we should create and embrace new opportunities within our organisations. Library and information managers - in collaboration with business development specialists - can contribute towards building an organisation's brand.