How can organisations use content curation in client portals to drive success?
by Clare Brown on January 10, 2022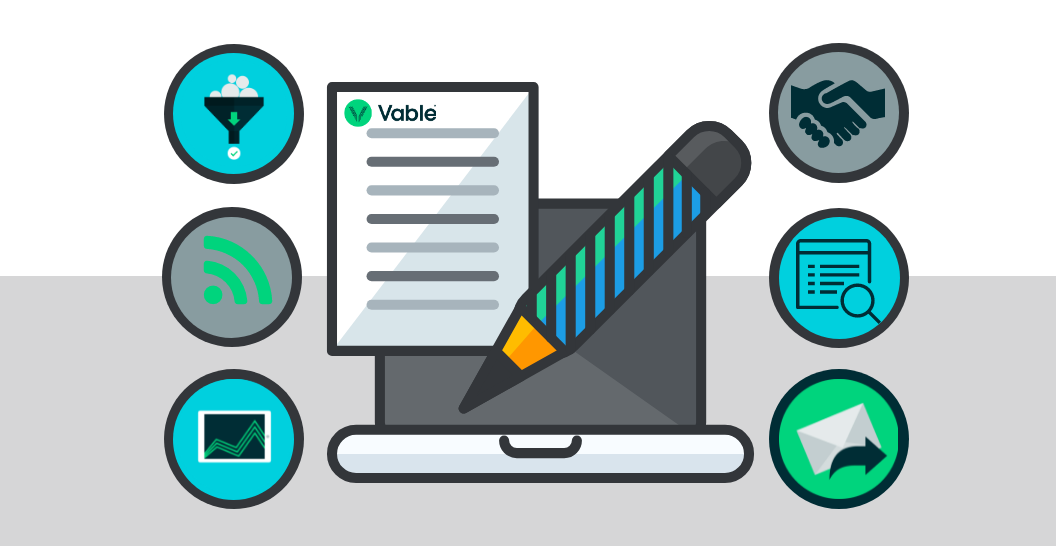 How advanced, and more importantly, how effective is your law firm's tech? How do you keep driving its implementation and success? It is rare for law firms not to have a growing network of interdepartmental innovators to encourage, champion and unify strategies to future-proof your legal business.
In this piece I look at the role of Chief Innovation Officers and the impact they can have on their firms. I want to explore how innovative and successful legal advisors can leverage the power of content curation and knowledge sharing in an age of digital disruption. Finally, I discuss why Vable's current awareness dashboard solution could be your next evolutionary step on your innovation journey.
What is the role of the Chief Innovation Officer?
It is essential for innovation teams to facilitate seamless collaboration and communication between law firms and clients if firms wish to remain competitive in an age of digital transformation. Although the innovator role varies from firm to firm, legal innovation expert Michele DeStefano identifies six key areas of responsibility:
Curating ideas and facilitating innovation processes and execution
Analysing technology available for lawyers that is or can be used by the firm to enhance transparency, increase access, create efficiencies, and please clients
Analysing, unbundling, and reconfiguring processes to enhance transparency and to create efficiencies inside the firm to improve client service
Aiding in new business pitches, responses to request for proposal (RFPs), and panel reviews
Engaging with clients to better understand their needs, develop relationships, and collaborate to provide more client-centric, effective, and efficient services
Networking with legal innovation communities across the globe
Facilitation, coordination, engagement, reconfiguration and many of these important concepts referenced in that list are underpinned by effective collaboration. In one of the better trend spotting articles of Jan 2022, collaboration is referenced in many of the trends mentioned.
When knowing the law simply isn't enough
Legal professionals are intelligent, analytical and qualified to advise on specialist legal matters. However, it's apparent that being "just a lawyer" isn't enough, but it is the same for everyone. We all have higher expectations of ourselves and others, and want more from our service providers. If we don't get what we want, we can change providers and leave them a one star review!
In the past, I have written about the importance of online reviews. Positive reviews and feedback are essential to maintain reputations and build business. For example, due to client demand, firms are keen to offer more transparency around environmental and social responsibility, diversity issues, flexibility in the legal workforce, and fees. Law firms can only do this by breaking down silos and improving coordination and integration between departments.
We have to accept we are in a constantly changing environment. As the Law Society Future World 2050 project reports,
And looking at the rise of the social media influence over the last decade, it is easy to see how the law firm of the future may include a brand-new suite of technological tools and job roles to provide the best services to a new class of clients
Clients need their advisors to be one step ahead of them; to be aware of potential regulatory pitfalls, changes to the business landscape, technological developments, and many other matters which affect the client's industry. Advisors can do this by following relevant commentators, keeping abreast of competitor and industry news via trade journals, blogs, social media and other reports.
How can we use curated content?
I've already discussed the difference between content aggregation and curation. We are focusing on curation in this post but we must acknowledge that to aggregate and assimilate all this information and turn it into valuable, actionable insights is no mean feat. Lawyers and other legal professionals cannot do this alone - they need to collaborate with vendors, knowledge and information specialists, and professional support teams.
The importance of horizon scanning
Legal professionals are concerned with doing the best they can for their clients and making sure that their business runs smoothly. Trend spotting or horizon scanning isn't necessarily at the top of their daily "to do" lists but if they want to grow the firm effectively, everyone - from trainee to managing partner - needs to anticipate future events.
A law firm doesn't necessarily need or want to employ futurists, but as trusted advisors to their clients, they are expected to have a certain level of foresight. Clients face an ever-evolving business, socio-economic, and legal landscape, so they need their advisors to be prepared for any eventuality.
Law firms need to put this "foresight" into practice so that they can be prepared to take their - and their clients' - businesses into the future in a structured and efficient way. Everyone in the firm needs to be able to anticipate future trends to a certain degree, but especially teams involved in knowledge management, business intelligence, business development, innovation and strategy initiatives.
Are you a thought-leader?
A recent article in the National Law Review discussed the importance of creating regular thought leadership pieces. When your firm's experts spend time creating valuable original content, it must be read and shared to make the desired impact. Your content must be good enough to be curated by experts and shared across the relevant industry.
It is important that content should be created by legal experts because they have the hours of niche experience. It's not just writing articles for the firm's website, thought-leadership can be found in industry journals, on specialist blogs, via social media commentary, as well as podcasts, videos, and conferences. When clients and industry leaders see and hear you disseminating knowledge and building a solid online following, they will see you as a trusted advisor.
Creating content is one thing but you can also share carefully selected items to your audience. By curating and sharing content, you help your followers learn new things. More importantly, you are showing them that you are also still learning and engaged with your clients' industries. The entire curation process – collecting, selecting, scheduling, annotating and then to final dissemination — can increase the knowledge of a legal professional.
Content delivery via dashboard, email or RSS feed?
Once your trusted advisors have selected which items to share with clients, content can be sorted into different topics or subject groups before being presented in a digestible and easily understandable format. This could be a simple email alert, via a shared dashboard, or RSS feed on an intranet/webpage.
Dashboards:
Content aggregators like Vable have created collaborative and efficient ways of disseminating the knowledge to clients and other end-users. Intuitive, easy to use, shared dashboards are increasingly popular.
Websites:
Extranets, intranets, client portals have been around for many years but the available technology means that there is more functionality and transparency between client and advisor than ever before. RSS feeds can ensure a constantly updated stream of curated content.
Emails:
Automated alerts and curated newsletters remain a popular way of maintaining contact with clients. These can be annotated with legal insights and added editorial for the benefit of readers. Regular communications can ensure you always stay in the mind of your (potential) clients and you might even open up a meaningful dialogue.
Social Sharing:
How often do you read something and want to immediately share it with a friend, colleague or client? Identifying a relevant article amidst the noise and sharing it with someone can be a perfect way to make contact in a positive way.
Why MyVable is perfect for your next evolutionary step
Vable's customisable, self-service solution, MyVable, is a perfect example of technology that is "fit for purpose". It has the potential to revolutionise information delivery, change mindsets by presenting relevant, accurate, and personalised information. It's designed to be simple so you empower your end-users to subscribe themselves to a range of newsletters, as well as create personal alerts from available topics. You can also:
Remove fear of missing out on knowledge by having all your resources in one place
Increase engagement and encourage best practice by bringing people together
Choose what you want to see, including branding. Make MyVable Your Vable
Share high quality, targeted news and information with friends, clients and colleagues
MyVable is a dashboard solution that sits on Vable's core platform, which combines content agnostic content aggregation, natural language processing, indexing and sophisticated curation capabilities. Knowledge specialists can create a variety of curated topics that can form the basis of regular news alerts. MyVable allows law firms to deliver a bespoke information service to their own clients, answering calls for real innovation in the competitive legal world.