Staying focused: library inductions and other training sessions
by Clare Brown on September 15, 2021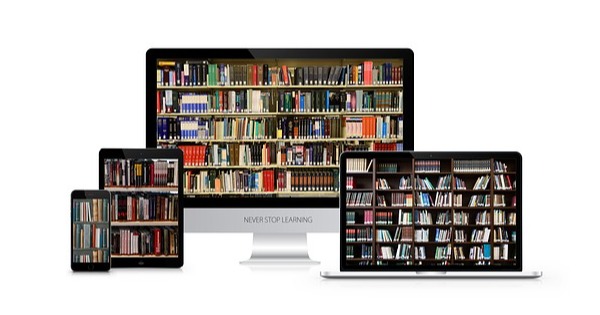 After a long spring and an uncertain summer, September is the perfect time to stop, refocus and reset our New Year's Resolutions. Once we as library and information people have done this for ourselves and our own professional development, we can harness the power of positivity and be ready to assist new work colleagues and end-users during their training and inductions.
What lessons have we - the trainers - learned over the past year and a half?
Although people are being encouraged to return to their physical offices, anecdotal evidence suggests that there is still a hybrid of online and in-person training and inductions taking place. In this piece, I want to acknowledge the benefits of online library inductions and share some hints and tips!
Make full use of video conferencing functionality
What software are you using? Whether it's MS Teams, Zoom, Slack, GoToMeeting, they all have pros and cons. When you are using a piece of software for training purposes, you need to know its capabilities and possibilities - and pitfalls! I asked Anisah Ali, Vable's new Legal Product Expert, for some insights into video conferencing functionality:
Polls can help focus people's attention, especially if they are relevant to the topic being taught or introduced.
Breakout rooms offer opportunities for group discussions. Anisah suggests that this keeps sessions exciting and fresh, with the trainer spending a couple of minutes within each group.
MS Teams Presentation Live function. This offers an alternative way of doing presentations and it means you are presenting 'live', as if the powerpoint is behind you so it is more of an experience or performance.
An active Q&A box or chat function can help people to focus. When people know someone is replying and interacting, the audience is more inclined to participate.
As Anisah said, "when carrying out product training or demos, activating the live Q&A chat function empowers participants to ask questions whilst the presenter is talking. For example, they might want you to talk a bit deeper on a certain topic or function which you are happy to do".
I have personally found that discussion and chat behind the webinar/conference scenes is really useful, and I've made interesting contacts during the various sessions.
Keep up to date with video conferencing functionality and best practice
Even if you are using all available functionality, watch out for useful updates. Did you know that Zoom has recently released a focus function? The description says that "focus mode" is designed with the digital learning environment in mind, allowing students to stay attentive or work on their tasks while under supervision, without being distracted by others and their tasks. Is this something that you might find helpful?
Set up an automated alert from your current awareness platform so that you can collate information from the various video conferencing solutions. For instance, the Zoom blog is well worth a read even for non-subscribers. It includes interesting posts on language inclusivity, furniture for better collaboration, and best practice for your virtual events.
Check out the blogs from Slack, Blue Jeans, and MS Teams depending on your level of interest!
Consider engaging a producer
The two most stress-inducing aspects of online training is 1) the fear of technological hiccups, 2) the loss of audience attention. Given that new ways of working demand new kinds of jobs, a recent post from the brilliant RIPS Law Librarian blog resonated with me:
With the notion that we may face new and unexpected COVID closures this Fall, I wanted to share a Zoom teaching technique that the Emory Law Librarians found quite useful during remote instruction: the Producing Instructor....Technologically-experienced librarians, who were not teaching that semester, could sit in on the Lead Instructor's classes to manage any Zoom issues that arose in the session. The idea grew and developed into two librarians teaching an online course: one as the Lead Instructor and one as the Producer.

For the instructors who felt new to Zoom, the Producer controlled all of the technical aspects of teaching on Zoom: scheduling and setting up Zoom meetings, starting the recordings, managing noise levels in the session, and launching polls and breakout rooms. Working together in the class allowed the Lead Instructor to focus on the task at hand of teaching, rather than worrying about the various technical aspects of Zoom. It also guaranteed an answer to the question: Can you see my screen?
Having two or more people on an online training session might seem like overkill, however, it's not unusual. In the past, I've run in-office library inductions and engaged extra speakers, and worked in tandem with colleagues. It's a great way of learning from each other and sharing best practice - especially if it makes the training run more smoothly.
Some reminders for online training and inductions
The following points are as applicable to in-person training, as they are to online sessions. However, if you are running hybrid sessions please ensure that the sessions are inclusive so that no one feels like they are missing out:
Practice makes perfect: To avoid any surprises, misunderstandings, or technical issues, practice with your co-presenter(s) before the actual event. Take time to schedule a practice webinar where only the relevant parties can join, so that you are as professional as possible.
Coordination and communication: Before the event, send out an email with an agenda. If they know it's only for 20 mins, 30 mins, or whatever time you have agreed, it will be easier to hold their attention. Ask them politely that they turn off desktop notifications and keep mobile phone usage to a minimum to prevent distractions. Follow up the training session with recordings, slides, and notes.
Keep it varied: Bring in guest speakers and other participants to keep the tone fresh and dynamic. Q&As, audience participation, polls, and quizzes will make sure that your sessions are interactive and engaging.


Examples from real life!
As usual, the library community on Twitter had some good ideas. For example, Rebecca Fordon learned from last year's experiences and this year she followed up with one-on-ones to ensure that everyone was better connected.
Last year I taught via Zoom, and was horrified by how little I got to know my students. I'm teaching via Zoom again this year, and couldn't let that happen again, so I asked each of my students to meet with me one-on-one some time during the first month of classes. 1/

— Rebecca Fordon (@theFordon) September 15, 2021
I'm continually impressed by my amazing students, and I'm so grateful I found a way to connect better this year than last year. Thanks to all of those who've recommended these one-on-ones. I have 50 students so it's no small feat, but I've loved doing it. 3/3

— Rebecca Fordon (@theFordon) September 15, 2021
It's not just the training and inductions, it's the ongoing communication which Rebecca found so essential. There are other useful methods to stay connected. I particularly liked this quote from Amanda Bradley, Technical Training Manager at Old Mill, who said:
We set up WhatsApp groups for incoming graduates, so they feel like they are a part of the team right from the start. We have also encouraged new starters to 'meet up' – even if it is online - having buddies is vital. And while doing things remotely can be more challenging, it is also important to embrace the advantages too. For example, being able to easily record induction and training sessions using the technology on MS Teams has been really beneficial, as we have managed to build up a library of useful induction material.
For a real insight into what life is like for a trainee lawyer having inductions through September 2021, read and watch this by Lizzie Lord.
Conclusion
Everybody has their own way of learning, and it is partly up to the library trainer to uncover the best way of engaging with the individuals in the audience. We - as library and information professionals - have spent a lot of time in webinars and online conferences in the past year, therefore, we know what works for us personally! Use this knowledge to focus on your end-users, so that they can focus on you.