Nothing should be read in isolation. As I was putting together notes from Robert's recent webinar, this article about busy managing partners caught my eye. It said '[i]n 2018, the legal industry has more communication channels than we did even five years ago. Some are high in quality. I worry, however, that our communication channels are splintering the industry into sharper and more brittle factions.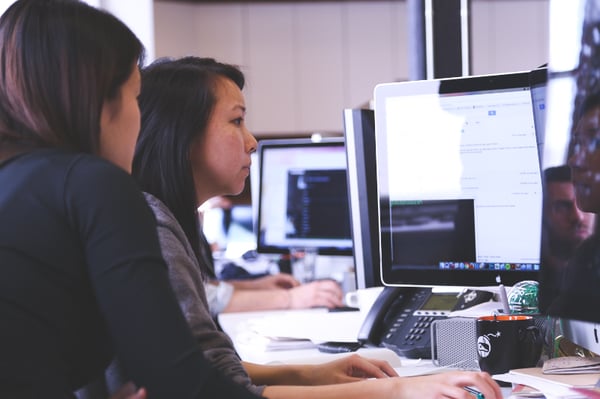 Image by Pexels
Although there may be danger of fracturing communications, by making considered use of appropriate channels, law firms can capture information and make use of the collective experience of their professionals. We have come a long way since having to beg lawyers to deposit their illegible and meaningless seminar notes in the library.
The webinar's panel were clear that technology is allowing us to work more collaboratively, and that managing partners are relying on their business services more than ever. 'Emerging Trends in Legal Technology: Bridging the Law Firm Experience Gap' was sponsored by the Association of Legal Technologists and brought together four leading legal information and tech experts.
Knowledgeable Panelists
The panelists were:
Elaine Screechfield, president of the National Docketing Association and firmwide litigation docket manager at Morrison & Foerster

Greg Lambert, president of AALL and chief knowledge services officer at Jackson Walker

Gary Meluish, president of the International Practice Management Association and manager of litigation support services at Ballard Spahr

Gavin McGrane, CEO of PacerPro.
Business services have become central to what the firm does. No longer are firms entirely driven by partners with little or no experience in business management, financial planning or technical knowhow. After all, law is a business like any other and we face the same challenges as our clients. And technical agility is essential.
Does the bridging premise make sense?
Elaine pointed out that the legal industry was not an 'early adopter', so it has been a rough ride to get to this stage. Many clients are agile and tech savvy, and expect the same of their legal advisers and court processes. Law firms are in the business of selling legal expertise but find themselves disadvantaged by their own structures. As Gary explained, we have to create a sharing environment.
Unfortunately many firms have been hampered by legacy systems. Information that firms require for forecasting, analytics, efficiency and development has been historically captured by individual departments, but held in separate systems. We require departmental convergence to truly start being creative with data.
Legal department convergence is here but…
The experience of HFW as outlined at BIALL 2018 was common to many firms. They have moved away from traditional delineated departments, and introduced global sector/industry groups instead; this happened at my old firm some years ago. However if the library wanted to access financial information at budget setting time, forget it. The lawyers may have been breaking down barriers, but business services were less keen to bust their silos.
Many clients are agile and tech savvy, and expect the same of their legal advisers and court processes.
This attitude is changing slowly as firm hierarchies become more flat; there is more collaboration and improved communications. The move towards a uniform 'dashboard' - or even an infographic - approach means that systems feed into one place and we can have information at our fingertips. It doesn't matter whether the data is coming from risk, finance or library, just that we have access and can use it to benefit the firm.
Elaine gave the example of how business development is using her department's information. They can extrapolate docketing data and accurately estimate how long a case will last for fee arrangements etc. This helps clients with their legal budget. She also explained how ticketing systems such as Zendesk can be used for staff training and development, and to improve analytics.
Trust a lawyer to spot an issue
Lawyers and tech are a perfect match. Tech is designed to improve efficiency and reduce manual input. As my programmer friend says, computers are good at boring repetitive work, and litigation or transactional work involves plenty of this. Lawyers are good at spotting problems, so when it comes to systems testing, they are blunt in the extreme.
Greg concluded that lawyers were never kept awake by enterprise search issues because they don't know about it. There is a disconnect in understanding. However, we have to look for what keeps the lawyer awake and solve their problems. It could be that the challenges you both face are similar, so you just have to arrive at a common purpose and communicate those pain points.
Just because a system works for one firm, it doesn't mean it will work for yours. Collaboration under a single strategy, with a solid understanding of the firm's environment and culture, means any system changes will not be a knee jerk reaction. A well thought through and transparent process will ensure value.
Given that changes will keep coming, there will always be something on the horizon. Keep all channels open and everyone informed.
References
Um, Jean (2018) - Big Law partners aren't dumb: they're just not in the room (054)in BIGLAW and LEGAL INNOVATION