19+ free multimedia tools to inspire library and information people
by Clare Brown on July 18, 2023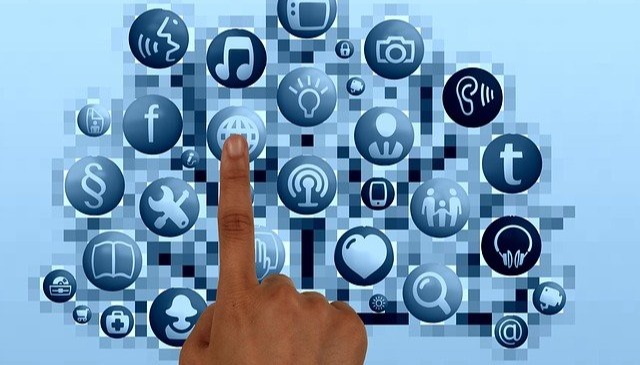 Creating engaging and powerful multimedia, images and videos can be a real challenge for library and information people. It's not just for training purposes, effective marketing relies on us making a real impact on social media and other communication channels. Our sophisticated and visually attuned audience wants to be entertained, inspired, educated, and informed - in new and interesting ways.
As proof that even the most text-based, traditional areas of the information profession is being visually transformed, the library and information services of the Middle Temple has recently launched a series of nano-learning webinars. Short, sharp, and bite-sized - they make full use of multimedia technology to transmit information to their end users.
Why do we need images, videos and infographics?
Images help our text and data tell stories in a more lively and entertaining way. They take dense paragraphs and convert documents into easy-to-read, visual pieces of content that people will remember, understand, and engage with. Spreadsheets and statistics are daunting at the best of times but clever use of infographics can bring your flat figures to life.
Here are some handy tips to keep in mind as you create your graphics and multimedia:
Is it fit for purpose? Know your audience and keep it appropriate.

The image or video should let the underlying facts tell a story - there should be a beginning, middle and end. Use a storyboard to plan out your vision!

KISS! Keep your design simple and straightforward. Your colour palette, editing, music choices, and font design all contribute to the overall message. Use your organisation's branding where possible.

Keep it legal! If you are using images or music from the internet, take care that you don't get caught out by copyright. This is especially important if you are using Generative AI.

Videos

should be short, dynamic, clear and entertaining.

Finally, think about where you will be hosting and sharing your content. This will impact the sort of content you create. For example, for LinkedIn, you have all these options and they require different content format types;

Photo/Video posts - Regular text updates with the option to include photos, videos, or links.
Document/Carousel p

osts

: Share PDFs, PowerPoints, and other documents in a carousel format that users can swipe through.
Articles/Newsletters: Long-form content with rich media elements
LinkedIn Live: Real-time video broadcasts.
Where can I get creative inspiration?
A blank piece of paper can be as daunting as the databases, services, swathes of training text or spreadsheets you are looking to illustrate or explain. One idea is to start with a pen and paper and sketch out some ideas but don't overcomplicate - or over-think - it. Watch out for free webinars and blogs aimed at information people, which can get you started.
Another great tool you can use to kickstart your presentation or webinar is Generative AI, such as ChatGPT. By providing detailed information to the AI chat, you can enhance the quality of the results. Keep in mind that you may need to make some adjustments to add humour and make it truly engaging. Nevertheless, it provides you with a solid starting point to work with - more recommendations below.
If you are looking for infographic inspiration, there are solutions which come with ready-made templates. Although they can be generic or run-of-the-mill, with a bit of imagination, you can make them look engaging and professional.
One memorable example of effective use of infographics in libraries was provided by the Advocates Library in Scotland. The audience at BIALL were amazed by what could be achieved - a true success story which you can replicate. All we need is imagination and inspiration and there is plenty of ideas on the internet.

Video is vital in a library and information management context
Video production and consumption is massive. Hubspot "announced that video has absolutely dominated social...and according to a recent HubSpot Research report, four of the top six channels on which global consumers watch video are social channels". There are many reasons why you might create videos in a library and information management context.
Although videos are popular, they can be a daunting prospect. There are some downsides, for example:
They require a lot of planning - script, editing, trimming etc

If recording clips on your computer, be careful you are not sharing any sensitive information. Some software has blurring functionality to ensure privacy

It has to be easy and accessible - any glitches and your viewers will be put off.



Recommended multimedia resources
We have access to a variety of free software that can help create a strong professional message. This is not an exhaustive list of multimedia resources so please let us know what you enjoy using! I've focused on free sources because library budgets don't often run to expensive commercial software.
Editing and creating images
GIMP

- is a good open-source alternative to Adobe Photoshop. GIMP is an acronym for GNU Image Manipulation Program. It is a freely distributed program for such tasks as photo retouching, image composition and image authoring.

Inkscape

- like GIMP, Inkscape is a free open-source piece of software, with a large community of users. It is a sophisticated drawing tool with capabilities comparable to Adobe Illustrator, CorelDRAW and Xara Xtreme. It can import and export various file formats and is useful for website graphics.

Canva

- is a complete design solution and works in partnership with many not-for-profit organisations.

There is a subscription pro-version available.
Other photo apps include Pixlr and XnView. There are also web-based photo editors for quick, professional edits. For images I have used Pixabay, Pexels, and Unsplash, and most recently Pikwizard which incorporates an editing tool. For icons, there is Flaticon. For free fonts, try Fontsquirrel and Google Fonts.
Make your infographics stand out!
Venngage

- This is my go-to and I find it intuitive and easy to use.

Visme - enables you to create

professional presentations and infographics online with many free templates available.

Piktochart - create reports, presentations, infographics, social media graphics, and prints.
Create great videos with multimedia software
Lumen5 - has both free and premium versions. Quick, intuitive and you can easily create striking videos.
Loom - has both free and premium versions and is great for short videos.
ScreenPal - I have used this to create recordings from my screen - ideal for a step-by-step demonstration of online processes.
What if you don't want to create a video? I've recently discovered an effective solution which can create step-by-step guides, complete with screenshots, instructions and the ability to open it up within the platform you're trying to use. I will be investigating this further!

And finally, let AI take the inspiration strain
Over the past year, Generative AI has gone mainstream. It has revolutionised the creative landscape by providing some interesting tools for creating content - and new ones are being launched all the time. Sign up for the Brainyacts newsletter to stay informed and current. Here are some platforms categorised by the type of media they handle so you can go and explore their potential:
Text generation:
OpenAI GPT series: The most well-known generative AI for text. It can generate blog posts, write essays, create poetry, and much more. You have to persevere with the prompts and treat it like an assistant - clear instructions, lots of background and plenty of patience.
Why don't you try out Bing, Bard, Jasper and a host of other GenAI chat services?
If you're looking to launch or rebrand a bulletin, webinar, podcast or blog then this name generator might give you some ideas.
Image generation:
DALL-E by OpenAI: This is a sibling of ChatGPT, but for images. You can give it a description like "a two-story pink house shaped like a shoe" and it will generate images that fit the description. It's very useful for generating unique, creative visuals.
Artbreeder: It's an online tool for generating images by combining multiple images. You can create anything from portraits to landscapes and abstract images.
Video generation/assistance:
Synthetic by D-ID: It allows you to generate high-quality video of individuals speaking, useful for creating promotional or instructional videos with synthetic personalities.
DeepArt.io's Video feature: Allows you to apply artistic styles to videos, creating a unique aesthetic.
Runway ML: In addition to image generation, it can be used for video generation as well, using various machine learning models to manipulate and create video content.
Audio generation:
OpenAI's MuseNet: This AI can generate 4-minute musical compositions with 10 different instruments, and it can even combine styles from country to Mozart to the Beatles.
Descript: While originally designed as an audio editing tool, it has an Overdub feature that uses AI to generate speech that sounds like a given speaker, useful for podcasting and voiceovers.
Remember, while these tools can produce remarkable results, they also raise important ethical and legal issues about consent, authenticity, copyright, and more.
Where do you find inspiration? What have you recently created? How has your audience reacted?