Creating engaging and powerful images and videos can be a real challenge for library and information people. Effective marketing relies on us making a real impact on social media and other communication channels. Our sophisticated and visually attuned audience wants to be entertained, inspired, educated, and informed - in new and interesting ways.
As proof that even the most text based, traditional areas of information are being visually transformed, City Law School has recently launched an inspiring website called TL;DR which aims to be a showcase for legal learning and communications focusing on alternative visual ways.
Why do we need images, video and infographics?
Images help our text and data tell stories in a more lively and entertaining way. They take dense paragraphs and convert documents into easy to read, visual pieces of content that people will remember, understand, and engage with. Spreadsheets and statistics are daunting at the best of times but clever use of infographics can bring your flat figures to life.
Here are some handy tips to keep in mind as you create your graphics and multimedia:
Fit for purpose: Know your audience and keep it appropriate. Note that some of the best infographics take the reader by surprise by referencing something unexpected.

Importance of narrative: The image or video should let the underlying facts tell a story - there should be a beginning, middle and end.

KISS: Keep your design simple and straightforward. Your colour palette, editing, music choices, and font design all contribute to the overall message.

Keep it legal: If you are using images or music from the internet, take care that you don't get caught out by copyright

Videos

: these should be short, dynamic, clear and entertaining
Or put another way: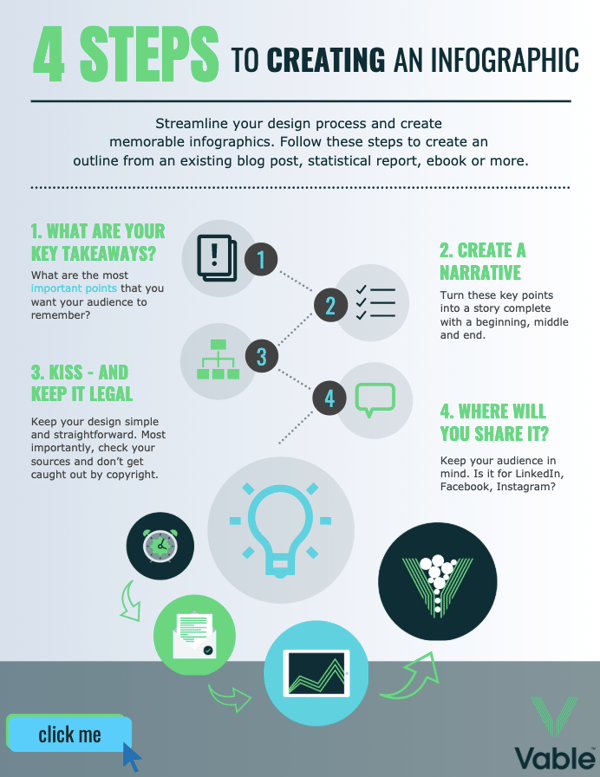 Where can I get creative inspiration?
A blank piece of paper can be as daunting as the swathes of text or spreadsheets you are looking to illustrate. One idea is to start with a pen and paper and sketch out some ideas but don't over complicate - or over-think - it. Watch out for free webinars and blogs aimed at information people, which can also get you started.
One memorable example of effective use of infographics in libraries was provided by the Advocates Library in Scotland. The audience at BIALL were amazed by what could be achieved - a true success story which you can replicate. All we need is the imagination and inspiration and there is plenty of information creativity on the internet.
Video is vital in a library and information management context
Video production and consumption is massive. Hubspot "announced that video has absolutely dominated social...and according to a recent HubSpot Research report, four of the top six channels on which global consumers watch video are social channels".
A Forbes article predicted that internet video traffic will make up over 80% of all consumer internet traffic by 2021. But you want your videos to stand out from the crowd and have maximum appeal to your intended audience. There are many reasons why you might create videos in a library and information management context.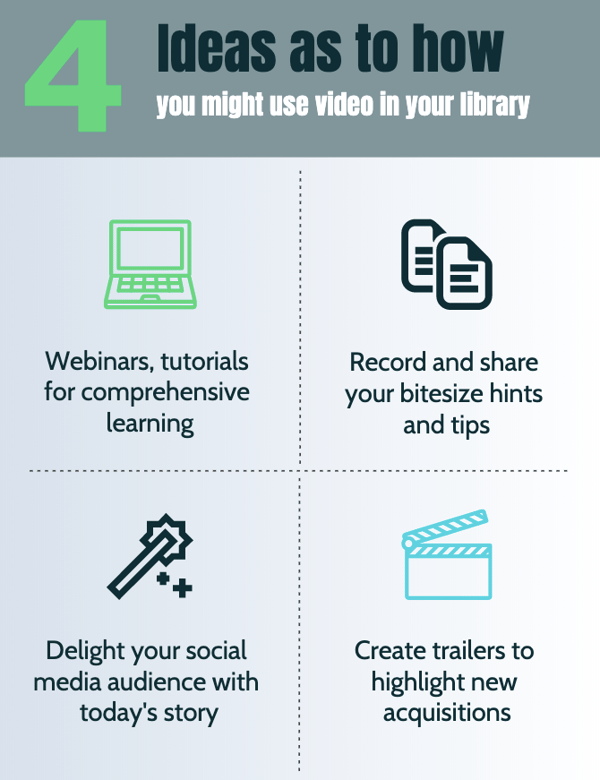 Recommended multimedia resources
As explored in the latest IFLA webinar, we have access to a variety of free software that can help create a strong professional message. This is not an exhaustive list of multimedia resources so please let us know what you enjoy using! The focus in the IFLA webinar was on free sources because library budgets don't often run to expensive commercial software.
Editing and creating images
Other photo apps include Pixlr and XnView. There are also web-based photo editors for quick, professional edits. For images I have used Pixabay, Pexels, and Unsplash, and for icons Flaticon. For free fonts, try Fontsquirrel and Google Fonts.
Infographics
Video and multimedia software
Take a look at the City Law School site to see what is possible. Where else do you find inspiration? What have you recently created? How has your audience reacted?