At Vable we're as excited about BIALL's annual conference as you are. With plans underway we've taken a look at the schedule and highlighted some of the sessions and speakers that look especially interesting. Clare Brown, Vable's resident information professional, will be attending BIALL as a delegate - and although we think she's magical, she can't be in two places at once. Here's a look at some of the events that we feel are Must Attends.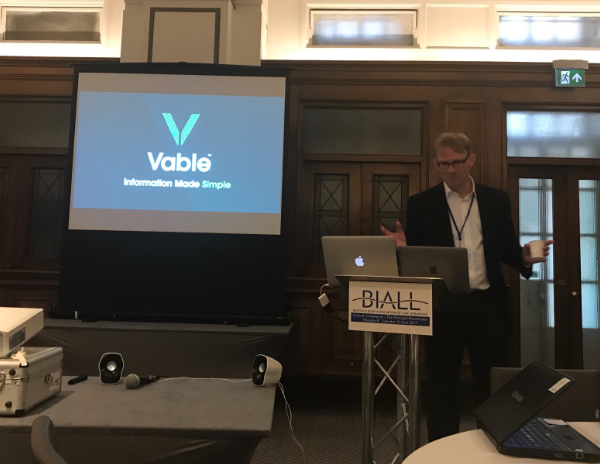 Vable's CEO and Founder Matthew Dickinson at BIALL in 2017
Day 1 - 7th June
The formal opening always sets the tone of the conference. We are lucky this year to have BIALL-Wildy Law Librarian of the Year 2016 Anneli Sarkanen as President of BIALL and we can be assured of a warm welcome to Birmingham. Anyone who follows her on Twitter knows she is approachable, assured, and has a wealth of industry experience.
The first parallel session of choice is 1C Reaching further: Using technology to provide a global service with Eleanor Matthewson and Lynne Jones from HWF. They are well qualified to talk about this as the firm has added five new offices globally. They will outline the challenges, including the difficulties of time zone, differences in language and culture, licensing issues and staffing. Intranets, a "virtual library", e-learning, and innovative current awareness demonstrate the benefits of technology which have allowed HFW to overcome these problems and build for the future.
Utilising technology to provide a world-class legal library service to international offices, despite time zones and licensing issues is near and dear to our hearts. We've written extensively about it on our blog, and made it our mission to be part of the solution to the challenges facing librarians. We are always interested to see how others have overcome difficulties, and how we can improve our own offerings.
The second session we recommend is 2C The Library in the Agile world: Case studies from Gowling WLG and Withers LLP with Diane Miller, Timonie Green
A brief introduction to the ideas behind agile and activity based working will be followed by two case studies of how this works in the real world. From Withers, where the move is imminent, to hear how library service provision is envisaged in the agile environment and what the issues are preparing for this and how they are being addressed. From Gowling WLG, where they have already implemented the move to agile working, to hear how library service provision is actually working in an agile environment, and what the issues are and how they are being addressed. We will finish with a look at how we can future proof our services to meet the demands of new ways of working, what new skills may be needed, what potential threats there may be, and how we can ensure that our profession stays relevant in the agile world.
Team Vable uses agile methodology to manage our workflow. Agile working can seem foreign to people who don't come from a startup/tech background, but we hope our blog post can help provide a primer to anyone interested in this subject. You may not have heard words like "Scrum" or even know what "agile" means in this context. All this will help you understand how this can work in a library environment.
Day 2: 8th June
All of the plenary sessions look fascinating, however it is session 4 - The Knowledge Engineering Revolution: Mentoring through technology that really resonates.
Technology is transforming the way legal work is being delivered, and is reshaping careers in the legal profession. Lawyers are becoming legal knowledge engineers, KMs are working closer than ever with IT teams, and more drafting is being undertaken by junior staff. Where is the value in legal services, and how is it being challenged? The speakers will be sharing some insights into recent projects and also discussing how technology is influencing greater collaboration.
Vable is not only composed of tech and information professionals. People from other backgrounds, like myself, are interested in learning how to improve collaboration across disciplines to produce better results. It is noticeable that library mentoring discussions are being held on VLE and social media, which offers scope for conversation and collaboration across networks and industries.
Business skills for librarians are as essential as research skills, but they are often neglected. Parallel session 3C - How business planning can help us prepare for the future by Claire Fox seeks to redress this.
This session is designed to give delegates tools and techniques to help with business planning. It will focus on sharing real life knowledge and experience, with practical tips for developing your own business plan. It will lead to a better understanding of why a formal business plan process is crucial to helping teams prepare for the future and remain relevant and useful to their organisations. We are interested to hear if your business plans reflect ours so that we can synchronise action.
Day 3: 9th June
I may be biased but librarians and their skills are essential for the future, but only if we keep ourselves relevant. Who do you think you are? Swing it, Shake it, Move it, Make it: Keeping LIS skills relevant for the future with Maribeth Eisenmann and Sarah Fahy promise to keep us on track.
As the information world becomes increasingly more complex we need to ensure we have the right talent pipeline for the future. Developing the right skills to help information professionals remain relevant and better position themselves, as the information world continues to evolve is essential. We will present the results of our survey of leaders in the sector and then have our wide ranging panel representing discussing the types of skills we will need.
Who are librarians, and what do you actually do? How will you face today's challenges? How will you build a successful team going forward? These are questions that preoccupy us and anyone who works in or with any kind of library.
The final two sessions I want to mention are tech-based, and explore how we should be embracing disruptive technology. Like Vable's Matthew Dickinson, both Aiden Hawes and Barry Vickery have always championed the use of tech. Whether it is revolutionising time consuming legal research, improving access to business information, or shaking up current awareness, taking a different approach adds value to every organisation. They are determined to shake the legal industry out of the 'this is the way we've always done it' mindset.
Over the years, too many organisations have failed and fallen by the wayside, whilst well-known disruptors such as Uber, Google and Apple continue to grow market share through the implementation of technology. Artificial intelligence is all anyone can talk about lately, it seems - well, that and blockchain (whatever that means). But while most laypeople are imagining killer robots, the dangers have thus far been more to do with privacy. But what about the benefits? We're keen to learn more. While not every organisation needs to radically rethink its approach, there's probably something every organisation can learn from those success stories - perhaps even adopting agile methodology.
While we all wish we could attend BIALL, we're excited to see which sessions Clare ends up attending and what she learns there. If you see her there, give her a wave!
Are you thinking of attending these sessions, or do you have your eye on some of the conflicting ones? Let us know in the comment below.

For more information about the conference, see: The BIALL website