Team Vable is proud to have had our suite of products - Vable InfoPro and Vable Inbox - included once again in the LAC Group's Report (April 2019), where they compared Vable's current awareness platform with four other technology platforms on the market.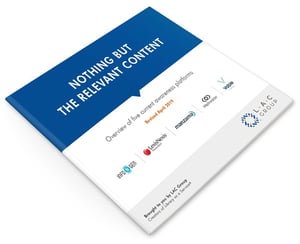 The original 2016 report, 'Nothing but the relevant content', explored five products in the current awareness or media monitoring space.
Their intention is to assist information workers with the product evaluation process, and help people who were not immediately aware of current awareness and media monitoring platforms. For consistency, they evaluated the same five products in this updated report.
The intention of this 2019 report is to highlight new developments within this market space. Technology has changed the face of this market in recent years and platforms like Vable have taken full advantage of what is now possible. The three main changes they highlight are:
Advanced AI features and capabilities, including analytics, machine learning and natural language processing (NLP)
LAC's report drew attention to Vable's focus on technology, for example IBM Watson's NLP algorithms which generate keywords for every English language article that is processed. This makes for more accurate searching at the most basic level.
Greater focus on intelligence and awareness to enhance content aggregation
Vable is highlighted as 'useful for knowledge management because you can include internal knowledge [and] could be a substantial resource in a single location.' Matthew Dickinson, Vable's CEO, has a background in law, and this can be seen with easy linking to some of the legal databases.
Greater availability of specific solutions to meet the needs of different industries and user groups
MyVable is singled out for its delivery of content to law firm clients through the use of dashboards, newsletters and targeted alerts, with reporting and analytics tools to monitor their engagement. Our unique solution, Vable Inbox, helps internal users manage and streamline their email subscriptions from within and outside the organization.
At Vable we know that it is important that information workers are in control of their organisation's subscription sources. LAC points out that Vable works with almost any source; public or paywalled, RSS feeds, .doc and .pdf files, emails and APIs. Managing them in one place means consistency in reporting and effective evaluation of expensive subscriptions.
The contents of this Report, as well as all the extra hints, tips and reminders will prove useful to decision makers involved in the procurement of current awareness, intelligence systems and media monitoring platforms. Thanks LAC!