As the sun peeps further out from behind the clouds, conference season is soon to be upon us. This is such an exciting time of year, with so many opportunities on the horizon. For some, the thought of conferences, trade shows, annual meetings and the like may not invoke such enthusiasm but there are plenty of benefits to be had from attending these events.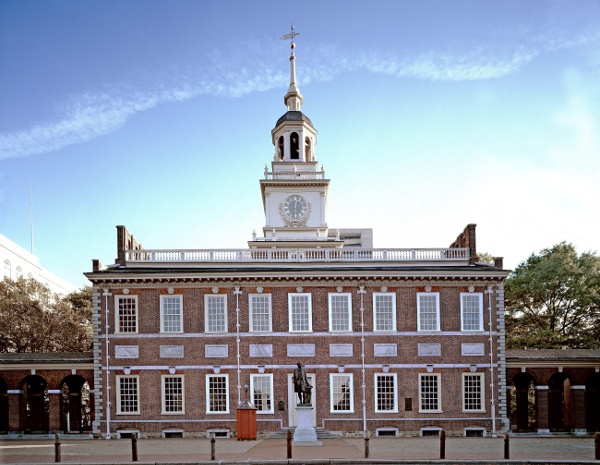 Independence Hall, Philadelphia - the host city for this year's SLA Conference
The most prominent advantage of attending events is the opportunity to network. This is something that is beneficial to all, no matter if you are coming from a large firm or a one man band. Having an external network of peers opens up endless possibilities to learn about best practices and new initiatives, whilst also having the backup in place for when you need someone to help you out in a pinch. At the same time, networking with vendors allows you to learn about changes and developments in the law librarian field whilst potentially simultaneously introducing you to new technologies.
In addition to this, each event brings with it the chance to attend numerous talks and seminars to learn new skills, whilst building upon those you already have. These can then be referred back to in future business conversations, giving you extra credibility. For those more advanced in their careers there is also the chance to present their thoughts and ideas in front of others, a great skill in itself. Whilst one could argue that all these opportunities, and more, are available from a distance there is still nothing as impactful as having a physical presence at a great event.
So, with that in mind, what are the top summer events for Law Librarians this year?
BIALL (British and Irish Association of Law Librarians) Conference
Held in Dublin this June, BIALL is one of the few (if not the only) conferences specifically for UK and Irish Law Librarians. 2016 sees the four-day conference honing in on "The value of change", a theme most topical in today's current climate. As well as having a number of dinners providing excellent networking opportunities for all attendees, the sessions include topics such as "What does knowledge management mean for information professionals?" and "Test, trial and learn - developing an alternative toolset for driving change in library services" as well as a whole host of Lightning Talks providing some fast-past extra snippets of knowledge.
CALL (Canadian Association of Law Libraries) Conference

Whilst it may be a bit too late to attend the conference this year, being May 15-18, this Vancouver based event is certainly one to look out for in 2017. With sessions geared towards all types of Law Librarians - from academic to government to private - and up to the minute innovative talks such as applying the Lean Six Sigma to law library operations, there truly is something for everyone. You can even go to a hosted dinner with local CALL members at their favourite restaurants.
SLA (Special Libraries Association) Conference
This year SLA is heading to Philadelphia where 214 sessions will be held over three days for Librarians from a whole host of backgrounds. Whilst SLA isn't legal specific, it does provide the space to learn from peers outside of the traditional law library realm, you never know what you might discover! Sessions include meetings of the Association's numerous divisions, such as the Solo Librarians Division, as well as networking events, educational programmes and even local tours. I'm sure you'll be spoilt for choice.
American Association of Law Libraries (AALL) Annual Meeting & Conference
July will see the windy city hosting AALL for four days of what may well be the biggest gathering of Law Librarians in the world. If you manage to get in before the June 20 deadline you can attend the AALL Hackathon, which is set to be quite the event, bringing together Chicago's programmers with Law Librarians to create something quite amazing using legal datasets. Other events look set to be equally exciting, covering topics ranging from "Legal Workspaces of the Future" to "How to Create a Positive Culture in Your Law Library". You can also participate in local library tours with AALL colleagues to really make the most of your stay.
Ohio Regional Association of Law Libraries (ORALL) Annual Meeting
ORALL's Annual Meeting takes a different approach to the national conference, and brings with it new advantages to be found. Although admittedly this isn't a summer conference (it's due to take place in Dayton, Ohio in mid-October) this three-day event provides a more intimate setting to network with peers in your local law library community. Linex recently attended SEAALL-SWALL's Annual Meeting in Dallas and found the smaller-scale nature of the event incredibly positive. ORALL will be releasing their schedule later in the year so keep an eye out for that, or other similar such events near to you.
Australian Law Librarians' Association (ALLA) Conference
The biennial ALLA conference takes place in August in Melbourne this summer, providing an invaluable learning and networking opportunity for Australia based Law Librarians. Held in the magnificent State Library Victoria (a notable feat in itself, with most other conferences being held in hotels or specialised centres), the conference gives delegates the chance to learn from keynote speakers such as Gideon Haigh and Julian Burnside AO QC, as well as to connect with vendors and other sponsors. It's set to be an interesting event, in a very special setting.
International Association of Law Libraries (IALL) Conference
This year sees the IALL conference coming to Oxford, UK for 4 days of discussions surrounding International Law and Legal Information. The 2016 theme is "Common Law Perspectives in an International Context" with papers presented including "Big Data and its implications for legal decision-making" and "Data protection and the 'right to be forgotten' in practice: a UK perspective", very topical given the current climate. There is also the opportunity to explore the local area with a visit to nearby Blenheim Palace, as well as plenty of networking opportunity through an introductory BBQ and other dinners. It looks set to be an educational and varied week in the heart of a historic city.
International Legal Technology Association (ILTA) Conference
A must do for all Law Librarians looking to keep up with the latest technological innovations, ILTA takes a refreshing approach to conference hosting. You are invited to start each day with Yoga and Zumba, before heading off to a day of educational sessions (schedule to be announced later this month). What really makes the conference stand out, however, is the vast range of networking opportunities on offer. These include the "Communities of Interest" where delegates are allocated different communities of Librarians, Small Firms and so forth. ILTA volunteers then facilitate discussion and networking within these groups, having previously gathered topic suggestions via social media pre conference. This Maryland based event is certainly paving the way for a new style of conference.
Want to meet us in person? We would love to meet you and discuss your current awareness needs.