This piece remains on the Vable blog because it is a historic record of what life was like pre-COVID-19. It is important to have insight into the thinking of the mid-2000s ideas of the the changing library space because we need to know how far we have come in just a short time. For more current discussion about where we are now, check out our blog topic on "library spaces".
Recent years have seen a gradual metamorphosis of the traditional library space as print goes out of fashion, the digital age has made global teams a possibility, and changes in working methods take the library and information professional into a new physical sphere. But, what does it really mean? And how is it impacting upon the typical library space we have grown to love? Can a library exist without books?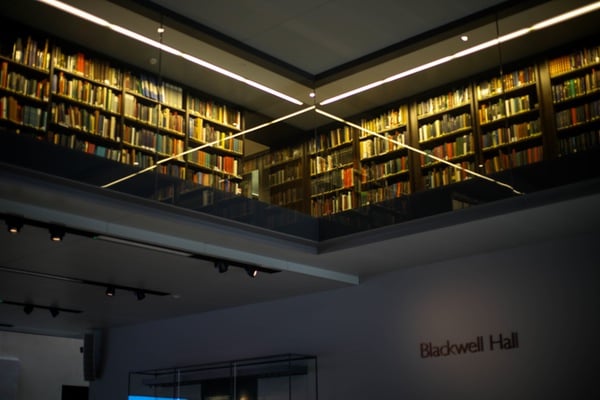 Advances in technology have caused a shift away from physical books, documents and so forth, as these print items are increasingly accessed online via databases and virtual libraries. Although many have taken a cautious approach to this transition, the switch has in fact opened up a great range of new possibilities, with resources becoming accessible to distributed teams from a multitude of locations.
This is a valuable change in a world where global offices are becoming increasingly common and libraries are often situated in one central location, supplying teams across the country or, indeed, world. Additionally, we have seen a rise in embedded librarianship.
The rise of the embedded librarian
Though the term is interpreted in a manner of different ways, it essentially involves the librarian moving out of the typical library space, into a new environment. Sometimes this will be to the offices of the practice groups or patrons they support, or into their own offices in a more available location.
Not only does embedded librarianship tend to enable the Librarian to gain a more thorough understanding of their patrons through observations, conversations and the like but it also supports the library team in marketing their services in a more visible manner to their potential clientele.
After all, it's hard to ignore what is right in front of you, whilst it's very easy to forget you have access to a service hidden away in another part of the building, no matter how valuable that service may be. By moving Librarians into a more visible location you are able to demonstrate, more easily, that the library service is not run by 'magic'.
There is an invaluable hard working team behind the service provided, and in an era of tightening budgets and the need to constantly demonstrate your return on investment, this has never been more relevant. Writing for AALL and ILTA in a joint white paper, Holly M. Riccio gives an excellent analysis of embedded librarianship further shifting the library from a space to a service:
In recent years, librarians have been moving away from the concept of the library as a space and toward the idea of the library as a service. The goal of embedded librarianship is to take this one step further — from a service to a true partnership. [...]

It is this relationship — a new kind of partnership — that will demonstrate the library's dedication to finding innovative ways to continue to add value and align with the continuously shifting needs of our organizations.
What is happening to the physical library space?
If the library is shifting from a space to a service - what is to become of the physical space it inhabits? There are a number of different ways that the library space can be transformed. Some might be prefer to keep it as it is, whilst print resources may be being utilised less and less they are still a nice to have and, with the transition to digital being an incremental process, often continue to serve as a valuable resource.
On the other hand, some organisations are transforming what was once their library space into an entirely different environment. One such innovator is Kilpatrick Townsend & Stockton who have reopened their former library as a collaboration hub.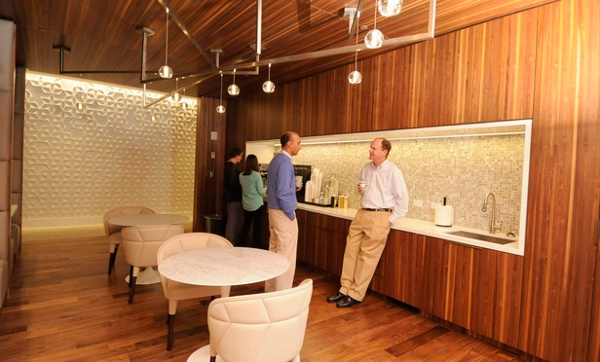 The new collaboration hub at Kilpatrick, Townsend & Stockton. Source: Daily Report
The new space, which is home to the firm's new top-of-the-range coffee machine, is equipped with a welcoming lounge area, private booths and conversation zones for more relaxed discussions. It has already become a part of the Atlanta team's daily routine, with everyone from the firm's chairman to young associates stopping by to pick up their morning coffee.
The new space is readily serving its purpose, opening up communications between teams and acting as a less formal venue for meetings and generating new ideas. Such collaboration hubs are essentially a manifestation of the library itself, with the goal of sharing knowledge, information and ideas continuing on - a true nod to the core value of the library service.
So, to answer our earlier question - can a library exist without books? It most certainly can. Librarians are united by their passion and desire to share knowledge and information with those who need it most, when they most need it. This will not change. The library itself shall continue, after all - the concept and aim remains the same. It just requires less physical space in order to do so. We shall merely see the library continue to evolve into the service it always has been, and always will be.