A historic view: How did COVID-19 revolutionise the way we deliver library training?
by Clare Brown on August 21, 2023
One day we might need some historical context - this was first published in May 2020. At one point in time, we had to rapidly rethink the way we delivered library and information induction training. An online panel discussion hosted by City Legal Information Professionals (CLIG) investigated how library services were handling the challenges posed by COVID-19.
What did training look like pre-COVID-19?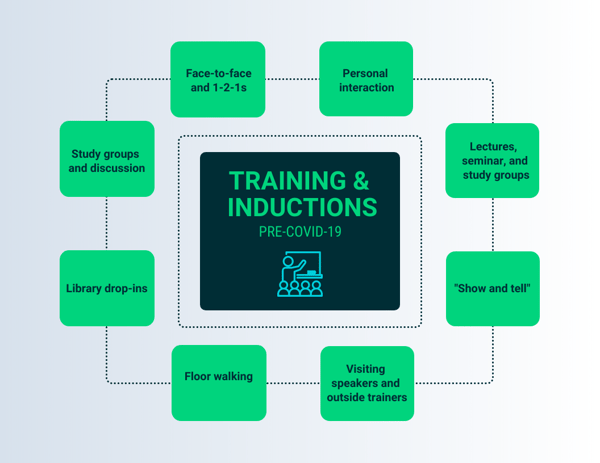 Library and information service inductions for trainees and new starters vary from firm to firm. It depends on the organisation's size and specialism, the number of library and information staff, etc. But regardless of differences, information staff are under pressure to ensure that trainees and other new starters get up to speed quickly.
I've never been a fan of the large formal lecture, with endless PowerPoint slides because effective learning requires active participation - in my view. Start thinking creatively! Generate some new ideas by involving everyone; Learning and Development teams, HR and IT departments will all be able to contribute something.
Although it involved a lot of preparation, group work, quizzes, case studies, Q&A with discussion were all effective ways of facilitating active learning. Face-to-face was essential because it remains personal and friendly. Getting to know your new end-users beforehand made everyone feel more comfortable too. It's a good way of building the library service brand!
In a previous post I did touch upon online library inductions for newly recruited remote workers, and I stated that training delivered via video conferencing was effective and well received. Most people want to get comfortable with the resources available to them, and there should be no difference in how they access library services just because they are not physically in the office.
What training issues are we facing now?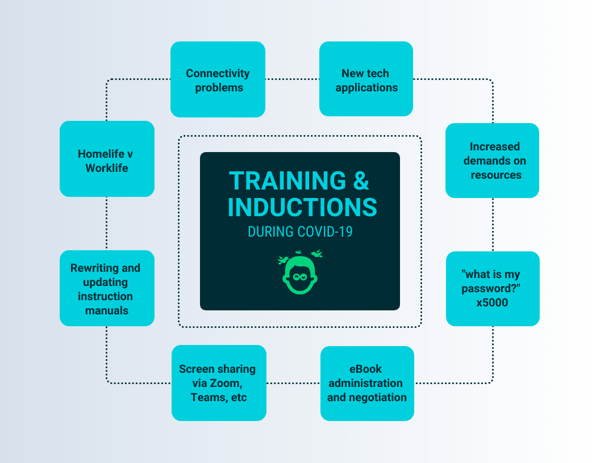 "Getting along" was the general CLIG feeling towards training during this time. We don't yet know what will happen with the 2020 intake of trainees, but current requirements give an indication of future needs. People are reporting an increase in the demand for online resources, as well as a corresponding need for refresher training.
Zoom and other video conferencing systems are essential for delivering online training. Where there have been technical issues, IT departments have offered prompt help and support. Everyone has been on a steep learning curve, so people have generally been patient with any hiccups.
One library manager reported that they had successfully designed and delivered remote training for an entire satellite office. This will no doubt serve as the template for rolling out mass training later in the year. The more we do this, the more we will learn and improve. We can also learn a lot from academic institutions and their online teaching experiences.
What can we do to meet post-COVID-19 training needs?
Social media has been great for sharing positive online training experiences from across the profession. At the outset there was an explosion of webinars and already we are seeing improvements in how they are presented. One tweeter reflected,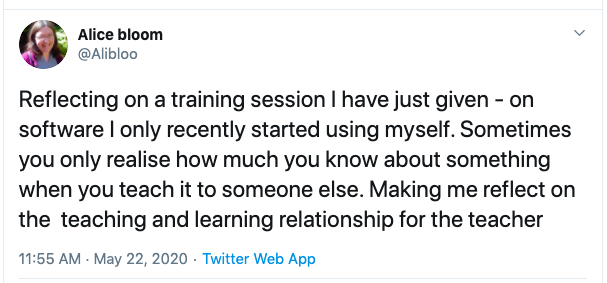 And it's also been a place to ask questions about student experiences. This tweet generated an entire thread of interesting ideas to consider when you are putting together a training course.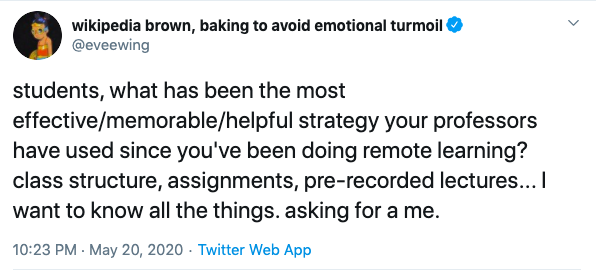 Many of the new 2020 intake of trainees are currently finishing their studies during this time, so they will be familiar with the challenges of continuing an education under lockdown. To put it all in perspective, if you have managed to navigate university VLEs, take exams under unusual circumstances whilst hoping your internet doesn't go down, a few Zoom calls with a friendly librarian will be fairly straightforward!
A recent study set out the challenges around online learning:
A detailed learning design process, with various active learning activities leading to student engagement and development of current ideas, skills and knowledge, is the challenge for all educators.

Developing an e-learning course that does not overwhelm students but provides them with opportunities to glean the essence of the material and internalize the knowledge to eventually translate that knowledge to practice is the ultimate outcome.

To achieve this outcome, an effective design and implementation of the learning process to promote and inspire positive experiences for the student, and educator, is fundamental.
Before embarking on any development work, consult your management team on their contingency plans for future trainee intake. However, we should be prepared for anything, and ensure that library inductions and associated training are optimised for online delivery.
Think about the basics
Do an audit of your existing training resources. Can anything be salvaged and repurposed? Do you feel that they are useful and informative?
Following on from that, are your library resources pages current and fit for purpose? Do you have sufficient permissions to amend, update, restructure etc? Have you used them during the past few months? Document your experiences.
What existing multimedia resources do you have access to?
What existing online platforms do you have available to you?
What video conferencing and office communications are you using? Are you at expert level yet?
Get your own skills up to date. You need to know your tech, your subject, and your strengths inside out - if you do dress rehearsals with colleagues, you will become proficient fast!
Test, test, and more testing!
Creation of material
Consider looking at existing material from the Middle Temple, and the various legal publishers and critically analyse them. Can you use any of the designs, or templates? Talk to colleagues, and make the most of your professional network.
Think about music, storytelling and infographics in your training. Turn existing Powerpoint slide decks into videos and record sessions so that you can build a library of training materials.
Anticipate FAQs, and identify the 'pain points' for your various online resources. Screen-O-Matic (or similar) allows you to create videos to show users the various workflows.
The chances are you won't have an entire day allocated, and to be honest, that's a good thing right now. Split the training sessions into more manageable chunks so you don't lose your audience's attention.
Use the screen sharing "show and tell" to give them an overview of everything, then vary it,
Return to basics and create a downloadable workbook with practical exercises. Insist on it's completion, so that you can provide feedback. Log it with HR to provide evidence of learning.
Record sessions for sharing. Get permission!
Make a note of the material which will be generated by sessions.
Always follow up on questions arising from training, these emails can be stored for future reference, and get feedback from your sessions!
Your organisation should recognise your part in inductions, which is why branding is so important. I have stressed the need for teamwork and collaboration in exercises because people remember more when they are engaged.
Final thoughts about your new look training
There was a feeling of positivity from the CLIG discussion, and people were keen to seize opportunities and do their best for their end-users. These points were raised and I think they are worth reiterating,
Consider the 'hidden curriculum'. Very often the people in the library and information centre provide knowledge that you won't find on the intranet. The informal, invaluable, timesaving nuggets of information which make office life run more smoothly.
Manage expectations; everyone is busier, especially where colleagues are on furlough. People appreciate honesty, so be open and let them know that some things are not possible. Conversely, let them know what is still possible!
And finally, no one can know what situations your colleagues are facing in their everyday lockdown life, so be flexible, be kind and be empathic.
Most people reported that management were supportive and doing everything they could to maintain motivation and communication. It is this management support that will be the making of your new look library training and inductions, so get your voice heard.
What plans are you making? Have you had any innovative ideas for delivering training in this new online environment?