Because who doesn't like to have his or her own anything-concierge.
Sometimes you just want a musical playlist that fits the moment, through either the correct mood or activity. It is less about your personal favourites and more about matching the context.
There are huge record stored organised by genre and artist, where you go to your various corners of interest and scan through titles and find what you want. And then there is the personal shopping assistant; you walk in the door and he simply asks: what do you need the music for?
This is Songza.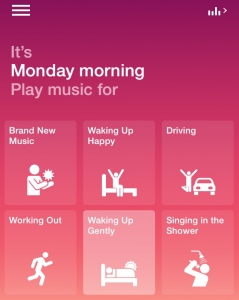 An ad-supported free app (with a paid version) for any mobile device, Songza creates smart playlists based on your mood or activity. All you have to do is select and click.
Open the app and you will be taken directly to the music concierge page. Songza will determine the day and general time and suggest playlists based on potential activities you are undertaking. At the time of writing this article it is an early Monday morning, so Songza asks if I might be driving, perhaps, or working out.
Select an activity and you are then offered various genres of music, from which you are further offered several specific playlists. Make your selection and your music is on. Songza does the thinking and selection for you.
And if the concierge does not get it right the first time, have no fear. You can move directly to a list of activities, moods, genres or decades.
Do not expect the level of playlist selection and music information you get from an Apple Music app or paid Pandora account, that is not the key purpose with Songza. Do expect a simple quick access to music which you already love or wish to discover, with all associated basic functionality.