A mid-April weekend in Dallas is a fairly good choice on an average day; add the joint SEAALL - SWALL Annual Meeting and it's a winning combination. The Dallas Association of Law Librarians hosted both the Southeastern Chapter and the Southwestern Association of AALL (the American Association of Law Libraries) assembling law librarians from these two regions to share ideas and questions.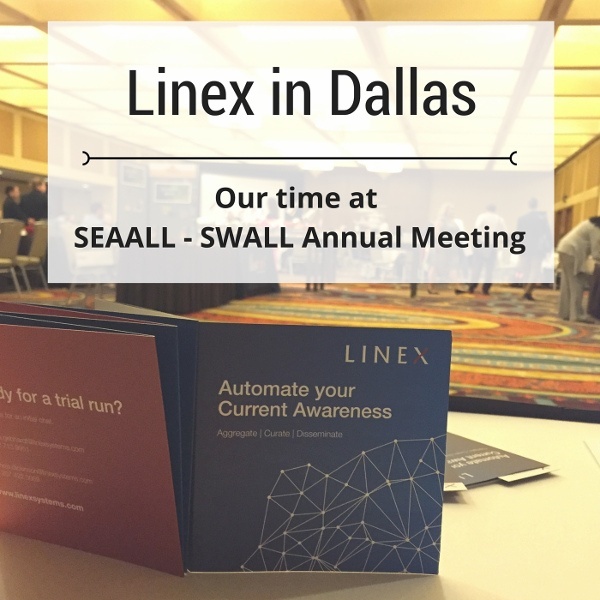 DALL kicked off the festivities with their spring institute: Technology Competency and the Practice of Law. Online communities were a core topic here - be they internal or external, private or public. How do you both create an effective network and safeguard people's privacy? Our friends from ILTA gave an introduction to their association, quite a propos in this context.
The SEAALL - SWALLL meeting officially kicked off on Friday morning with a keynote by Alan Lowe, Director of the George W. Bush Presidential Library and Museum, immediately followed by an expo hall break.
We, Linex, were joined by Bloomberg BNA, Fastcase, Proquest, LexisNexis, Thomson Reuters and others in exhibiting and sponsoring. Our tables were arranged at the back of the main ballroom, allowing for easy and continuous engagement with attendees. Cassidy Cataloguing win hands down for the best stand in the room. It was my first time exhibiting at a regional annual meeting of this sort, and I found myself amongst a room of regulars, who find great value in these smaller-scale conferences.
Networking and seeing vendor products are two elements of a larger whole, with educational sessions of course being the heart of these annual meetings. We learned about how to use data, best practices for outreach, career development, research methods and more.
Competitive Intelligence (CI) was discussed in a couple of different settings. What is it, what are the latest strategies, and more importantly: where does the library come in to this function. It was pointed out that 10 or 15 years ago, this practice barely existed, now more and more law firms and law schools are hiring researchers dedicated to this role. It is a chance for career development as well.
Speaking of, the common themes remain the same as we have been seeing in recent years: adaptability is key. Whether it is this new(ish) practice of CI or any number of creative ways to develop your role. The word "flexibility" was commonly used, as was the expression "stretch your role". There are many ways you can assume ownership of various areas of work, some obvious but many less so. Continue your own self-development, be open to opportunities, and try to say yes, especially when everybody else is saying no.
Research of course is a practice as old as libraries, but also one that never stops evolving. Being a law librarian conference, there was of course talk about the connection between law schools and law firms. Are law students being trained in research in the ways it is applied in law schools? While there has been a divide on this in the past we are seeing more and more communication between academia and private practice, to improve the preparation lawyers receive.
A personal highlight were the Ignite Programmes: 5-10 minutes presentations covering a wide variety of topics, these allowed a quick dive into areas I may not have otherwise considered, and provided a base of new knowledge.