I've attended more BIALL conferences than I care to think about but discovering the theme for each never gets old. The theme for this year's BIALL conference 'Designing our future: debate, develop, deliver' put me in a thoughtful frame of mind because it goes straight to the point, with a practical three point plan. Inevitably it is not a new topic. From 1970 when Law Librarians were thinking of their next ten years, our conferences have always enjoyed exploring where we - and the industry - are headed.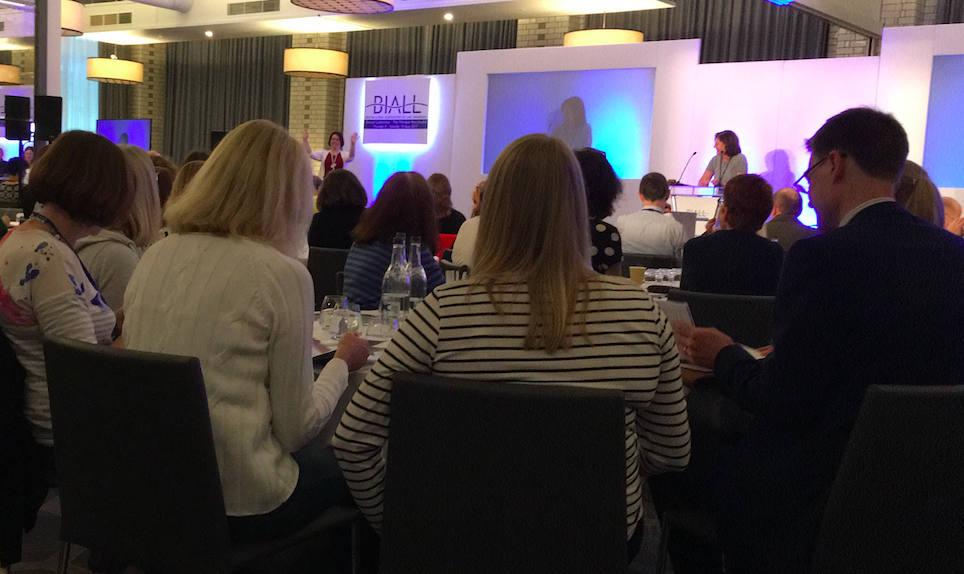 Image courtesy of the author
Debate opens horizons
With such a title, I enjoyed going through the programme's abstracts. As always it makes my imagination's 'mouth water', but at this stage in my career often the most valuable part of the conference are the conversations and exchanging of opinion that happen outside the seminar and lecture rooms. Inclusive and respectful debate is the key to building future services.
Debate requires an understanding of how we communicate. Some of us are passionate and enthusiastic about how we present our views; others are more measured. Regardless of differences, Neil Currams's practical techniques on communication at work will help us day-to-day. Lisa Hawksworth, Sheila Murphy will also take us through how communication can effect change. Your law library, and organisation as a whole, deserves the advocacy that your excellent communication skills can provide.
Despite similarities, all of us have different roles and our concerns are reflected in a variety of ways. In this Vable support role, I am in the privileged position of finally being on the outside looking in, which gives a fresh perspective. I am interested in attending the 'Have your Say' because this is an opportunity to listen to current concerns, gauge the atmosphere, and get a general sense of what people are thinking.
Development means adding value
So you are communicating well, you've had the debate, it's time for the real work to begin. I am happy to see how much commercial knowledge will be imparted at BIALL because we need to share practical business skills, knowledge and experience. Clare Fox's parallel session focuses on planning and taking the organisation forward, and will fit in with my wish to help library and information centres develop their service.
I'm also curious about the session on reaching and teaching millennials. Brian Detweiler, Kimberly Mattioli, and Mike Martinez Jr and their US experience promise an insight into current trends in librarianship which emphasises services over physical location or collections. Our future customers and users are accessing Current Awareness in new and inventive ways which means that information suppliers will have to adapt. Let's combine our knowhow with new tech and develop something innovative.
Delivering with excellence
After debate and development, you are finally at the most exciting part of the journey; service delivery. And what can demonstrate how far a service has developed and delivered than a case study? The Howard Kennedy experience promises some ups and downs, with mergers and management changes. It will be demonstrated how starting again can be a positive experience. It enables a full review of library stock, knowhow systems, as well as building internal relationships.
The other reason I attend BIALL is to see what the suppliers are doing with technology. How are they delivering with excellence? I know that our product team are constantly refining workflow in response to customers. The session on integrating legal research and information services with client centred design is particularly relevant to suppliers. We need to be aware of the end result, and give our information services customers the tools and support they need to facilitate client service delivery.
I look forward to debating information matters with you all. What are your plans for future developments of your service?
At a glance: Sessions mentioned above
Day 1
11:15am Parallel Session 1A - From lawyer as client to collaborator: Integrating legal research and information services into client centred service design
Day 2
9:30am Plenary Session 3 - Reaching and teaching millennials: Designing the future of student services

1:15pm - BIALL AGM and Have Your Say

2:15pm - All of the Parallel Sessions! I need buddies to ensure we get notes on all of them

3:45pm Plenary Session 5 - Effective ways to improve your working relationships and generally have a better day