Despite premature reports of the death of librarianship, law librarians continue to be in high demand - sometimes in new and different roles. We at Vable are excited to be part of the vanguard of technology and other companies that are recognising the value of information professionals and finding new ways to utilise the unique skill set they embody.
I'm particularly excited to introduce you to Clare Brown, a Library and Information Professional with over twenty years' experience working in law firms. Clare joins us as a Topic Specialist, and she will help Vable continue to provide cutting-edge current awareness solutions to our clients.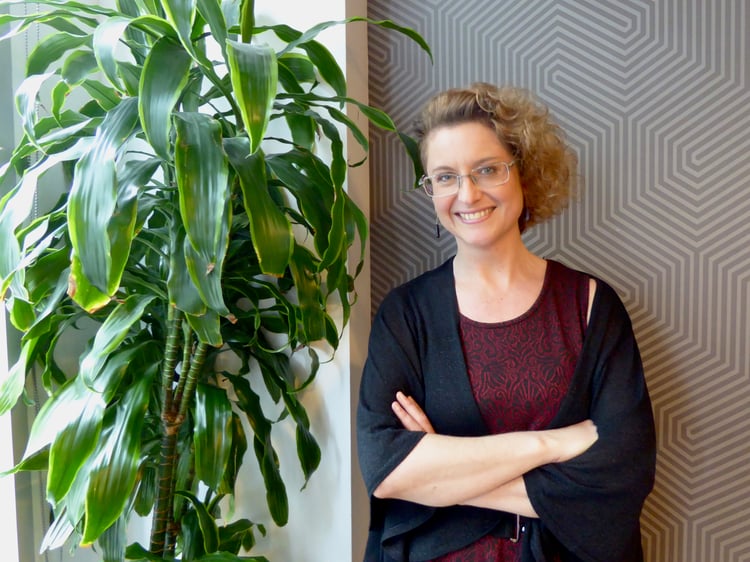 Photo by: Remy Maisel
Tell us a little about your educational and professional background.
My route into librarianship was quite traditional. I was writing to the Library Association (now CILIP) and BIALL for careers advice at the tender age of 15, determined to be a library and information professional from the start. After A Levels, I went to Loughborough University of Technology to do a joint BA in Library & Information Studies with English. It was a world of computer opportunity, but at the time I was quite happy to find refuge in restoration drama, and the poetry of John Milton.
Only when I got my first library post at Kennedys Law in London did I really start putting into practice what I had learned. By 1998 I felt ready to charter. As a 'special librarian' it was more of a challenge because the LA didn't really know how to deal with us in the late 90s. For instance how do you talk about library management and structure when you're in a team of 2? Therefore I had to be more creative to demonstrate relevant professional development. Creativity and the constant evolution of the 'special' library sector has remained the focus of my CPD.
How did you decide to become a law librarian?
Librarianship of any type is a definitely a calling. After extensive work experience in public and school libraries, my policeman father took me to the local magistrates court on a careers day and I encountered my first law textbook. Although I had no desire to be a lawyer, I discovered that I was happiest in the spot where the legal profession met the information profession. The multifaceted space where subjects intersect is always interesting.
What have been some of your most memorable learning experiences at work?
Working with lawyers means that every day is a learning experience. Once you know what they want, you can anticipate their needs and build trust between the library and other departments. Being able to communicate directly with clients by being one of the first non-partners to get a CompuServe email address in 1996 was gratifying. CompuServe was like hotmail for business customers. Another leap forward was a partner inviting me to join his defamation team, as he said, 'to make your role more interesting'.
Tell us about a time you played an integral role in a major success at a law firm.
We rarely find out how our research has impacted an end result. One of the more interesting and obviously useful queries was for an intellectual property case where we were trying to prove when a client's trademark was first infringed. For two days I sat in the British Library leafing through parent and child magazines looking at nappy adverts. I had no idea that there were so many titles, nor so many types of disposable nappies! I found the evidence needed for the lawyer to construct a successful case.
What challenges have you identified in the field of law librarianship?
We walk a fine line between scrutiny and visibility. If we are not being seen as adding value to our organisations we will be called to account. This is why we must positively promote ourselves, our organisations, and our role. Visibility is a huge challenge. By nature, information types are more 'quiet doers', therefore we must leave our comfort zones. Justifying why an organisation spends so much on information can be uncomfortable but is a vital part of our role. The other side of this is making full use of available resources and promoting them at meetings, training sessions, and (social) events.
The other challenge can be engagement - with publishers and suppliers, or with your users/clients. I can get excited about a great new tech product which will efficiently disseminate information around the firm but convincing a non-tech savvy senior partner who is juggling responsibilities, budgets, etc., can be more of a challenge. This is especially the case during product trial periods when you are mediating and negotiating with the supplier and the firm.
Other challenges include keeping up to date with technology and innovation; the current seismic political, business and economic landscape; and the rapid changes in, and ongoing consolidation of, the legal and legal-tech world.
What made you decide to join Vable?
It was very simple; they wanted an experienced law librarian, and I wanted a shift in career emphasis. The excellent Linex Systems - the forerunner of Vable - has been around for years and I always encouraged my lawyers to use it. It's a pleasure to join a well-regarded company at this exciting time, and I hope their clients will make use of my legal information experience as we move forwards.
How do you see your role at Vable in relation to Vable's clients and the industry as a whole?
Change is in the air, flexibility is the future. Law firms are constantly looking for new technological solutions to ensure better information delivery. This is why high volume document processing, e-discovery, or compliance and HR functions are becoming permanent features of the legal outsourcing market. Legal information outsourcing is also gaining market traction, therefore existing knowledge and information centres need to evolve to service the legal world more effectively. News aggregators like Vable are an example of an external service working closely with firms to deliver information in a more timely and efficient way.
Many tech firms are producing incredible and innovative products, but perhaps lack the experience of working with information people within professional service organisations. Therefore my purpose is to provide insider knowledge, and be an intermediary between the two. Although we normally work in partnership with the library or knowledge centre, we believe that many smaller firms and businesses who don't have an information service would benefit from targeted current awareness.
What are some new trends in the industry that you've identified, and what should law librarians be doing to stay current?
I feel lucky to have witnessed a major paradigm shift in how we deliver legal information.
"It is rare to now find law libraries who are just passive repositories of information; over the past 25 years we have converted them into active, engaged and dynamic spaces."
Our early involvement in tech meant we had to explore, evaluate, convince, and implement. From the moment I saw a demonstration of one of the first federated search engines at the Law Society, I knew innovation was key.
Quality current awareness provision has been a subject close to my heart, and I am happy that I am working with an innovative team on the cutting edge of technology. No trend emerges in isolation so we need to be alert to legal and business market developments, changes in regulatory environments, as well as new technologies and consumer demand. Regardless of the industry in which we serve, there will always be an expectation of adding value and customer service excellence.
What are some of your hobbies, when you're not at work?
My life is split in two; whilst I am in London my main hobby is getting excited about new stuff. London's dazzling array of universities, galleries, secret spaces, theatre and musical experiments provide the stimulation and inspiration I crave. Where else can you find a large piece of the Titanic, listen to how Elvis was remastered, or happen across an English performance of a new translation of Dubrovnik's Shakespeare (Marin Držić 1508-1567)? To provide balance to all this, half of my time is spent in Croatia, embracing fjaka and nature.
Where is your favourite place in the world?
This is a really difficult question, so in true legal style, I'm going to say 'it depends'. My favourite places are those which inspire, and given travel is inspiring, being en route to somewhere is usually my favourite place! Especially having recently discovered the value of 'slow travel' by car, bus, or ferry. We miss so much by flying from place to place, although I can recommend air ballooning! My top favourite places currently are:
For solitude: sat on the jetty watching the sunrise over Suđurađ on the Croatian island of Šipan.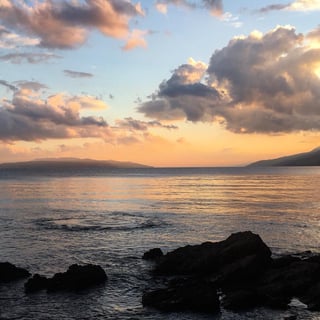 For laughter: Split sharing good food and wine with friends.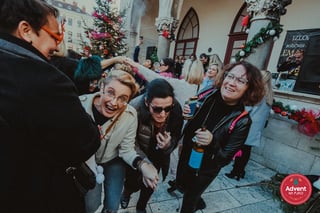 For mystery: Lake Bled, Slovenia in Autumn's morning mist.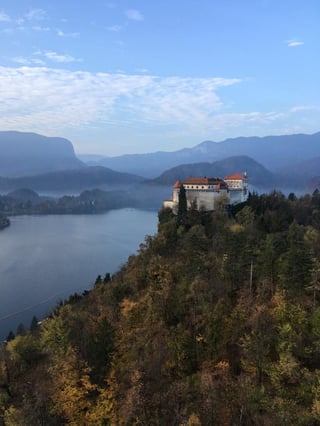 Photos courtesy of Clare Brown

Tell us about an event or exhibition you're looking forward to in the next few weeks.
Easter will be spent in Split, and I'm already looking forward to the city's communal events. All seem to be around music and food! I'm not a huge planner of things because spontaneous is best. However the Guildhall School of Music & Drama do amazing things and I recently saw their Blackout at Tower Bridge.
Our thanks to Clare for coming on board, and for talking to us for this blog post. If you'd like to reach Clare, send her an email.
Have you seen a job listing for an information professional in a non-traditional company or role? Join in the discussion below.