Continuing the theme of recapping #BIALL2017 we're back this week to relive another fantastic session, this time from Nick West, Chief Strategy Officer and all round tech genius at Mishcon de Reya. This year's BIALL conference focussed on the theme of "together or apart" which flowed quite neatly into Nick's talk exploring the narrative of human vs. machine or human and machine.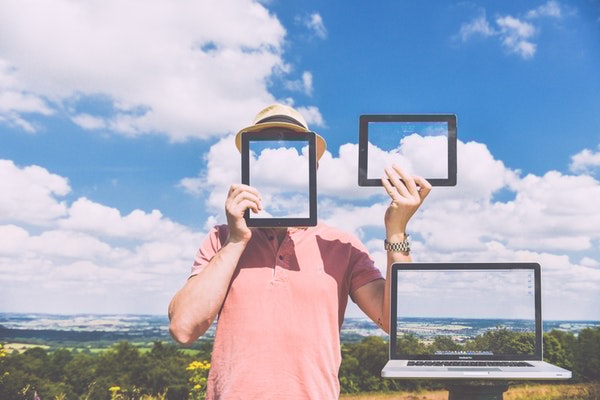 Today's technology is dominated by three major trends, as Nick explained:
Processing power - this is measured by the number of calculations a computer can do per second. Computer power is now in our hands in the form of our smartphones, of which there are 3 billion in the world with ¼-⅓ of the population having one of these powerful devices in their pockets.

The cloud - we now have servers that enable us to almost make disposable software, it is fast, easy and cheap to create.

Explosion of data - in 2014, more than ¼ of all photos ever taken had been taken that year. The amount of data we are creating is exponentially increasing, and this explosion is set to continue well into the future.
These three trends have come together to create a new class of technology that is most commonly known as AI. Though Nick noted that he preferred to steer clear of this buzzword and call it cognitive technology. So, we all come across cognitive technology each and every day - Google constantly improves its results as we search, we receive far less spam than ever before, our Netflix accounts recommend similar films for us to view, computer games become easier than a few weeks previously as they want to suck us back in, Uber's surge pricing reacts to changing demand, the list is endless.
We now see entity extraction, breaking down the natural language in order to categorise text - a form of natural language processing which can be found in the Vable platform. As Nick explained, the machine is able to determine that James Comey is a person, Moscow a place and other different concepts. You can try it for yourself using Dandelion API or see the example in the screenshot below: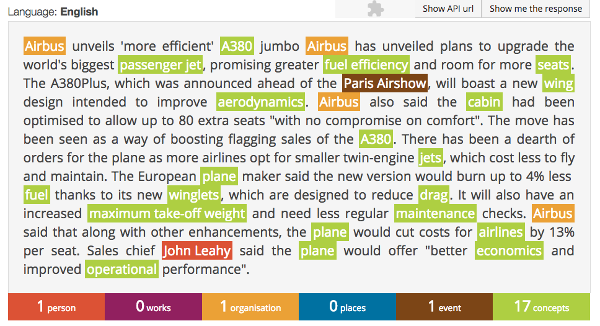 Screenshot taken from Dandeloin API
A machine can now describe the contents of a chart or graph and put it into text, just like one would if writing a report. You can try this out for yourself by creating a free Amazon Web Services account. And, as Nick also reiterated, trying these things yourself and experimenting really is the best way to get to grips with new technologies and see how they might be useful for yourself and your organisation.
Indeed, the rate at which technology is developing is fantastic. In 2006 we were all amazed when a self-driving car managed to travel 7 miles without human control. Fast forward 5 years and we are seeing Google cars passing their driving tests. None of us, particularly in this industry, can afford to sit back and let such developments pass us by. We need to be involved right from the outset.
But is this change really different?
In 1784 we saw the first industrial revolution with the introduction of mechanical production driven by water and steam. Mass production was later introduced in 1870, along with the division of labour and use of electrical energy. 100 years later, and 1969 welcomes the rise of the knowledge economy that we all know.
In contrast, the speed at which technologies are changing today is both phenomenal and quite surprising, as Nick commented. But is this time different? Who knows!
What does it mean for legal?
We're currently facing a major perception problem when it comes to the legal sector and technology - many people think that law firms just have their heads in the sand. We've all read about the parking ticket robot, and the problem with that is that, albeit newsworthy, it creates the misconception that lawyers' work is easy. I mean, even a robot can do it. Right? Wrong.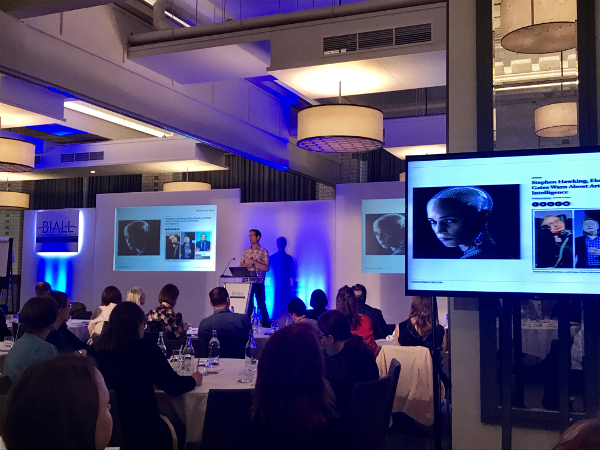 Nick West speaking at #BIALL2017
As Nick elaborated, many people's experience of lawyers is that they're just not using technology that is ubiquitous in society. However, this is set to change. Just comparing AngelList's number of legal tech startups from 2014 to now gives us a glimpse at the evolution. In 2014, just 400 legal tech startups were listed on the platform. Just three years later that number has almost quadrupled to 1500.
Looking at the law firms themselves also gives us some insight into how times are changing. We've seen a growing number of top firms establishing their own tech incubators to try and foster innovation in the industry, with Allen & Overy's Fuse incubator, Dentons' NextLaw Labs, Slaughter & May's Fintech Fast Forward programme and Mischon de Reya's MDR Lab (of which Nick West is the Director) being some key examples. Even the public sector is getting in on the action, organising a hackathon devoted to online courts and digital justice, alongside Legal Geek and the Society for Computers and Law.
Together or apart?
So how do we work alongside this new technology? As Nick explained, machine technology is very good at classifying information, something that as humans we find inherently boring (and we also don't tend to be very good at it!). For example, a machine learning tool is able to review the documents contained within it to determine whether they are relevant or not, with a human's guidance. These results can then be extrapolated across the million other documents that need to be reviewed, saving valuable time and effort. If we are using this technology in such a way now, then it won't be too long before it's the norm for e-discovery, e-disclosure and so forth.
Of course, it won't all be plain sailing. The way we work won't magically change overnight. There are numerous challenges to be faced first, with lack of data being a significant issue in particular. Machine learning requires a high amount of data in order to train the models. The issue with law firms, as Nick reminded the audience, is that we're generally talking about confidential data that isn't sitting around available to use.
"If you think this isn't going to affect the legal industry significantly, I just think you're wrong."

Nick West (2017)
What camp will you be in? Some people may think, "well you know, it can't really do what I can do - how can it have my 50 years of experience as a lawyer?". To that Nick responded that a machine does tasks in a different way, sometimes better than humans. Instead, we must figure out how to work with machines.
Nobody is going to be doing significant legal work without utilising these technologies in the future. What we need to do, Nick stated, is educate ourselves and the juniors who are entering our industry. He argued that students are currently being failed by law schools when it comes to education surrounding technology.
The biggest thing we took away from Nick's session, as he encouraged us to do so, was the importance of playing around with technology. We need to experiment, we need to be talking about R&D. Nick emphasised that we cannot sit around waiting for the piece of technology that will do the things you want - you'll be waiting a long time - one size does not fit all. Instead we need to adjust and adapt to what is available to us, and consider how it can enhance our working (and everyday) lives.
"Human progress depends on working with machines. Now is not the time to change that."

Nick West (2017)