"Vable! What do you have in store for us in 2020?" Over the past few weeks, I have been asked this several times and it is a valid question. Vablers can be assured that our product team has not been idle, but are working hard to implement some great new features over the coming months.
The first part of the process of delivering a great current awareness product is listening to you, our clients. In many respects you are all part of our product team, providing us with fantastic feedback and feature requests. With so many great features to choose from, the challenge we face is deciding how to prioritise. Which features are going to bring the most benefit to our clients over the next 12 months?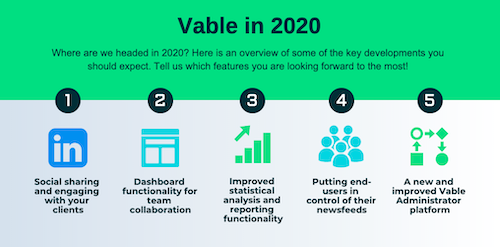 Collaboration and social sharing for all
Collaboration and social sharing is essential in 2020. Vable clients have requested functionality to enable end-users to share relevant and interesting articles with colleagues. The new feature we are working on will enable you to do this, but also share articles via social media. This is "must have" feature for both information and business development teams.
Group dashboards for at-a-glance news monitoring
In MyVable, our self service platform, you will soon be able to create dashboards containing any number of topics covering a specific practice area, industry or group of clients. These dashboards can be standalone web pages or can be framed within an intranet or Sharepoint environment.

New reporting module for improved ROI
"What is our return on investment?" I hear you ask. Your library and information team spends 5 hours a week curating a newsletter for the management team. Is that a good use of time? Who opens the newsletter? What kind of articles get the most clicks? Which expensive subscriptions are under-utilised?
Having a 360 degree visibility of who, how, what and when is key to making the right decisions. Our new reporting module will give you just that, allowing you zero in on the information you need.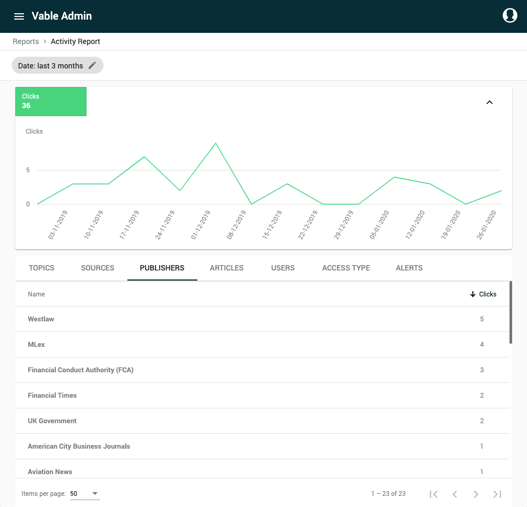 MyVable is the future of current awareness delivery
For those end-users who want to monitor their aggregated news independently, we will be upgrading our end-user self-service portal. MyVable puts your end-users in control: they will be able to add content, manage feeds, run searches and create topics, and much more.
MyVable is shaping up to be a new and exciting current awareness development. Lots of ideas have been submitted on how to expand MyVable's capabilities and we welcome the feedback - after all, you know your end users best and what features will make the platform most valuable to them. If you wish to contribute to the discussion, please get in touch!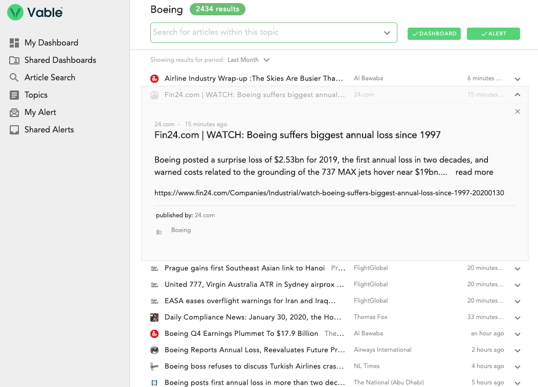 Vable Admin v2.0
Efficient current awareness and news aggregation platforms requires straightforward administration. The Vable Administrator platform is getting a fresh new look with expanded functionality and UX improvements. We believe this new interface will enable easier management of your platform and will enable us to expand the functionality with even greater speed in the future.

This is not the end of the story. These are just some of the highlights of what's to come; our agile approach to development means that we anticipate other helpful features along the way. We are constantly looking at ways of improving your current awareness. So keep your highly valued feedback coming - we are always here to listen.