Not only are we coming to terms with the change that this virus has brought about in our lives, we are trying to fight an avalanche of information. Every time I do a search for COVID-19 or coronavirus across thousands of aggregated sources, I'm overwhelmed. I know there is quality information there, I'm just struggling to pinpoint exactly what I want.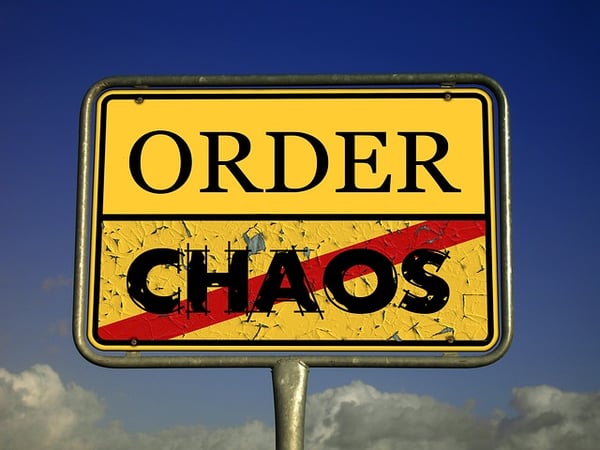 I sense this word will become ubiquitous:
infodemic. Noun. (plural infodemics) (informal) An excessive amount of information concerning a problem such that the solution is made more difficult.
As information professionals we instinctively start finding order in the chaos so we are at an advantage. But when everyone is demanding impossible information - including your children and loved ones - it can be disorientating.
You want authoritative news, not infinite stress-messy scrolling. In this piece I want to help you rediscover your comfort zone, and offer some reassurance.
It's ok not to be in an information comfort zone right now
This is why it's overwhelming. The COVID-19 Data Pack "Total mentions in the media" (31/3/2020) is mind blowing. Billions of hits, and it's not going to go down any time soon: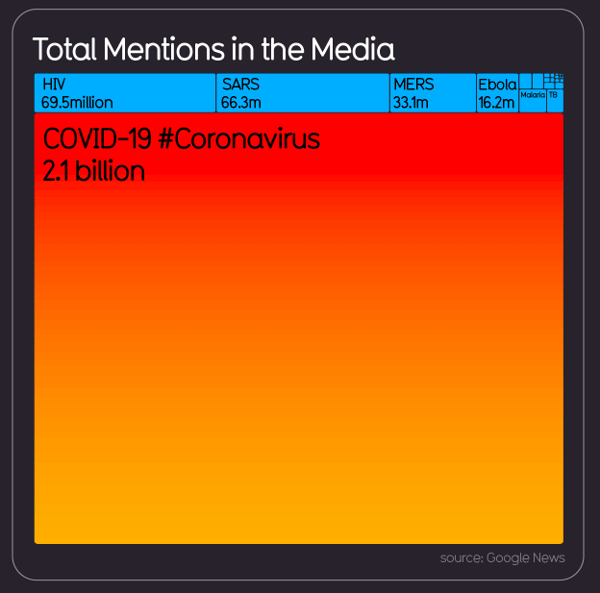 Finding your information comfort zone
You're at home and, although it's far from perfect, you have some structures in place and incredibly there is a routine developing. You've adapted to restructuring your work environment as best you can, and as Saoirse de Paor said in the latest UKlibchat, "most are embracing the change with enthusiasm and innovation".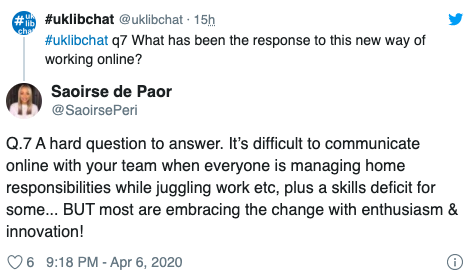 Having spoken with various legal library and information people, it seems there was a brief hiatus whilst work colleagues settled into new working patterns. However queries are returning to their usual high volume, and it's almost reassuring to hear about lost books, legal queries, and the inevitable emails asking for password reminders.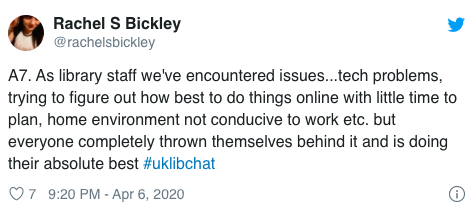 Before their office information centre was locked down, some resourceful library types stuffed their car boots with key texts! I'm hoping that when some semblance of normality has returned, there will be a permanent record of the lengths that information people go to, to ensure that a library service continues.
But as this tweet from a locked account said, "sustained remote working is very different from our norm. Ultimately, I know our staff are making it work and doing their best in extremely challenging circumstances - there is no way I can expect 'everything the same...but working at home." We are not super-heroes, but people doing their best.
Libraries after COVID-19: Once you've found your zone, how do you keep it together?
In a recent blogpost I said, "As we look forward to a new decade, I wonder where we will be in 2030...but all we know for sure is that technology will affect us in exciting and unexpected ways. And Vable will be there with you every step of the way." This is why I'm not a futurologist; we didn't have to wait until 2030 for the unexpected.
None of us have ever experienced such a devastating global event. It is understandable that amongst such insecurity, people are seeking reassurance. They need accurate current awareness so that they can be informed, and advise on a constantly evolving situation. How do you turn this information chaos into a single, accessible, reliable package?
Law firms - and any other professional services organisation - are in the business of selling actionable advice. They all want to become The Pandemic Expert. If you google Coronavirus Resource Centre, it brings back pages and pages of repetitive law firm results. Even when the information is good quality, how do you find that one nugget of concise information?
As one article said, "it's information overload for legal teams at the moment...firms [need to] break down information into digestible headlines that encompass both the practice area and jurisdiction affected by a particular legislative update, allowing legal teams to find relevant information much faster than having to sift through lengthy or generalised emails."
Could content aggregation be the answer?
News monitoring and aggregation platforms like Vable - and its standalone Vable Inbox email solution - can help disseminate targeted external information. Information specialists can identify and include the most valuable industry news sources, then curate the best current awareness content. This could be the digest, or the in depth industry analysis.
Quality sources of information
A platform like Vable enables you to aggregate RSS feeds, public websites, subscription and free alerting emails, 3rd party API feeds, subscription databases and internal intranet/content management feeds. Your organisation subscribes to many specialist databases so make use of that information - efficiently.
Google finds a lot of questionable results from unreliable sources, but as mentioned above businesses rely on facts and quality sources on which to base decision-making. Vable helps you take control by giving you the ability to choose where you get your information from, so your colleagues and clients will receive quality alerts that you can trust.
Presentation of Information
This is vital if you want to help your colleagues into an information comfort zone. They can either have the information pushed out to them via email, or they can pull it in via dashboards or portals. Corporate intranets/extranets can receive Vable RSS feeds, or shared dashboards mean that entire departments or teams can be on the same page.
Something like Google alerts are usually restricted to an individual and cannot be managed centrally. Vable allows administrators to manage all the information coming in and going out, so nobody misses anything vital. Topics and newsletters can be created for individuals, but shared across entire organisations.
Are you seeing the ROI on your subscriptions?
Clean data means better results and an immediate return on investment. Incoming English language information is analysed using natural language processing. Relevant keywords are added to the existing metadata which allows us to create filters. Keywords and standardised metadata allows you to search in an intelligent way.
If premium data is being fed into the Vable platform, administrators can see which sources are popular - or not. When articles from an expensive database are being used, then it indicates value for money. If they aren't being clicked on, there could be an argument for cancellation at budget setting time.
Last but not least - searching
This takes me back to where I started. Whatever you do, for the sake of your sanity think about your search angle before embarking on your COVID-19 search. To give you a head start on Vable I have created a Hot Topic filter for "COVID-19". This filter is set up to bring in relevant keywords articles, and new sources are being tagged every day.
Use the taxonomy to immediately improve the relevance of your search
Create bespoke filters to search across your publication collections
Check your punctuation and spelling - consider UK or US spellings
Be patient and refine your search until you find what you want!
I set out to help you rediscover your comfort zone, and offer some reassurance during this New Normal. As we find the "enthusiasm and innovation" in our work and private lives, perhaps we shouldn't think of this process as rediscovery, so much as redefining where we are. This is going to take a while - and that is ok.
Everybody needs knowledge to be reassured; and information people need to redefine their information comfort zone. We are here to help, in which ever way we can.