Late October saw Vable head to Washington DC, as part of our USA Roadshow, for a very special collaboration with the Law Librarians Society of DC. Jeff Brandt, CIO at Jackson Kelly and editor of the renowned PinHawk Law Technology Daily Digest, and Jean O'Grady Senior Director of Information Research and Knowledge at DLA Piper and founder of popular blog "Dewey B Strategic", joined us for an educational Lunch & Learn to explore how to balance content curation and automation.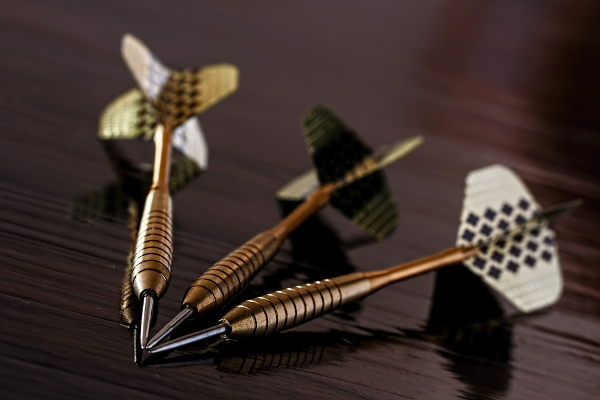 The event saw Jeff give us some fascinating insights into what goes into producing each PinHawk newsletter each morning. For those of you who don't know, PinHawk creates and curates a number of daily newsletters for professional services - ranging from the Librarian News Digest, to the Legal Administrator Daily and the Law Technology Daily Digest; there's a vast range to choose from, ready to update you on what you need to know every morning. You can subscribe to the newsletter here.
Jeff's Law Technology Daily Digest has over 17,000 subscribers, with readers ranging from private law firms and government legal agencies to CIOs and CKOs. To create the newsletter, PinHawk's in-house system crawls over 600 sources of information, covering both blogs and websites. As Jeff says, "in my curation I have to try to keep in mind my audience, and my audience is very diverse so that sometimes gets difficult". He was kind enough to share his top tips for curation with us.
Before we dive into those, however, it's worth noting the personal benefits to be gained in managing such a newsletter. Jeff found that his firm actually found this extra responsibility made him more employable,
"...when I joined Jackson Kelly many people thought that I would give up doing Pinhawk and actually that was one of the things that Jackson Kelly liked. When you read so much information, when you try to process and filter those kinds of things, your ability to look at trends and see what's happening is a very very valuable thing. My firm has no issues, the agreement we have is that if it were to start interfering with my 'real job' we'd look at something different but so far so good."
Catering for a diverse audience
Curating content for such a diverse audience brings with it many a new challenge, such as the need for clear content classification. Having clear organised sections enables the reader to jump straight to the content that's most relevant to him/her. Jeff curates his content into seven key categories: strategy/business, practice support/eDiscovery, knowledge management, business development/marketing, finance, "also of note" and employment. Naturally, as both Jeff and Jean were sure to emphasise, classification must be kept crisp and fresh. As the industry continues to evolve and develop, so too will content categories. Jeff reflected on his current dilemma with the knowledge management section and whether that should broaden into KM / lean / project management.
"The balance is trying to keep it crisp and clean so that people always seem to know where it is they want to go for what they want to look for."
Sources, categories and the non-relevant
Jeff starts out each day by reviewing his sources to ensure that all are of exceptionally high quality. As part of this he will also evaluate this usefulness of each source - some blogs have over twenty posts per day for instance, and this can be overwhelming. A typical morning will see Jeff looking at approximately 300 new articles to review for the newsletter. Mondays, on the other hand, bring a weekend's worth of content with 450-500 new items to evaluate, meaning a much longer morning before work.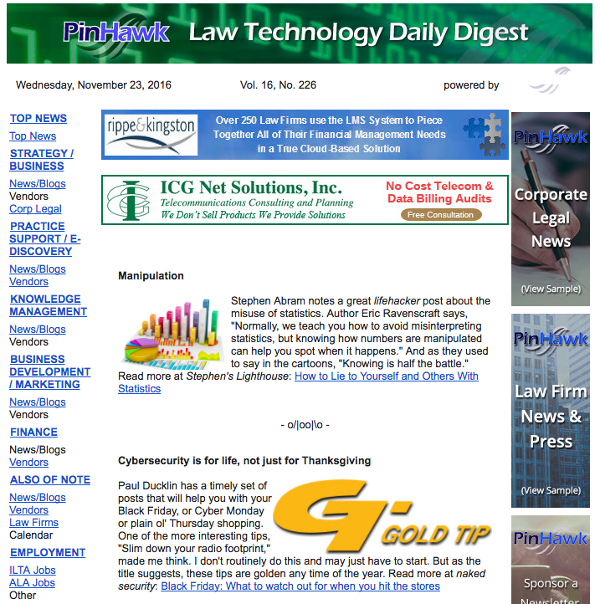 He will then organise the content into its appropriate category before excluding the non-relevant information and choosing what to highlight. When selecting his highlights, Jeff is sure to remember that the subscriber has limited time coupled with thousands of newsletters that they could be reading, or indeed RSS feeds that they could curate themselves.
Ultimately, Jeff's goal is to draw attention to why the reader should click through to this piece:
"Why is this an important piece? This is something that could be shared in your security awareness programme, this is something that's going to catch and bite you if you don't look at it. Here's something that's trending that other firms are doing that you should be looking at doing. Here's something you should avoid. So, trying to bring in to the reader not just the fact that this was highlighted but why it was highlighted and why I thought it was important that you read it."
Focussing on feedback and fun
Often, Jeff will ask questions in his highlights and receive plenty of responses. He also gets a number of unsolicited responses with readers commenting on articles he's highlighted or disagreeing on his stance on a particular piece. In line with this, he also takes care to highlight pieces that he doesn't always agree with if it's something that will make his readership think and interact.
Another form of feedback can be found in the PinHawk weekender edition which is a compilation of the most popular posts from that week. The weekender edition is an automated newsletter made up of the top 20 articles from the preceding five days and allows Jeff to gain valuable insights as to what his audience finds the most interesting. Did people only read his highlights? What was clicked on? What wasn't? These are all key factors to consider when reviewing the success of your curation, with a viewpoint into how to improve your targeting going forward.
Finally, Jeff's top tip is really to have fun with your curation and take a more light-hearted approach:
"I think fun is a way to catch people's attention to help them learn more, to focus their attention, to engage them in thinking."
What about you, what are your curation best practices and tips?