AALL is the largest legal information management event of the year so it's easy to be overwhelmed by the many sessions. As a way of navigating this conference, I have been inspired by our Business Skills for Librarians ebook, with an extra section on technology. Update your skills and get these sessions added to your app schedule - don't forget to come visit Vable at booth 234!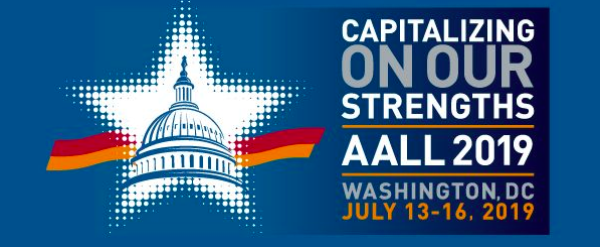 Technology in legal libraries
Let's start with technology because that excites me most! Vable is obviously happy to see so many sessions with a current awareness angle. Finding a Needle in a Stack of Needles: Best Practices for Alerts specifically looks ways of streamlining newsletter and alert delivery. We know that keeping track across multiple platforms for hundreds of end-users can get very complicated. This complements the session on Social Media as Primary Sources of Government Information because aggregators can include information from many sources.
Building the Case for Legal Innovation sets out our importance of being drivers of tech in our organisations. We need to be the trusted experts and be able to debunk any tech hype, which takes us to developments in AI. What is happening with AI regulation worldwide? Foreign law specialists covering various regions and legal systems, will discuss some of the regulatory trends, challenges, and governmental strategies related to AI. Check out Artificial Intelligence and Implicit Bias too!
However it is important to really understand some of the practical applications of the available tech. Following on last year's successful program introducing APIs, Deep Dive: DIY API: From Inception to (Successful) Implementation provides a hands-on demonstration. Participants will interact with presenters and experiment with creating their own APIs in a safe environment, where guidance will be assured.
See also I Know It Used to Be There: Using Web Archives in Legal Research and The Librarian's Role in Access to Relevant Legal Information and News
Management skills for librarians
Communication skills have never been more important partly because we are in a constantly changing industry. To focus on their work, people need reassurance. Leading, Energizing, and Developing Staff Through Times of Change will ensure that managers know how to listen to their teams and provide them with the development and training they need to transition into new roles.
One of the themes coming out of the recent #CILIPConf2019 is diversity and inclusivity in the library and information profession. In An Effective Approach to Diversity, Inclusion, and Equity in Library Recruiting they ask managers to think differently about how to encourage a diverse pool of candidates to apply for open positions. As managers it is our responsibility to widen the search for skills - and communicate those intentions.
See also: Developing and Achieving Your Leadership Potential and Process Improvement to Effectively Manage Your Law Library
Promotion and marketing for library and information services
Thinking of innovative ways of reaching new - or invigorating existing - audiences can be a challenge. Can we generate interest using give-aways? In the practical session, Show & Tell: Swag from Libraries Across the Country they aim to answer all your questions - "What is swag?" "Why should I give swag and is it worth the cost?" and "What companies can help me create swag?"
What about turning your research training into a game? In Wanna Play? Leveraging Gamification to Increase Interest, Adoption, Technology and Research Skills the speakers identify novel ways to get new products into the hands of lawyers and other researchers. You will learn how to game the system to incentivise competitiveness and reward resource adoption, keeping it fun for everyone.
See also Shifting the Law Library Approach from Operational to Service-Oriented and Maximizing Your Faculty's Scholarly Impact: Techniques to Increase Findability
Negotiation and financial planning for legal information managers
Negotiation skills remain a hot topic because they cover so many parts of the information role. Anyone who wishes to learn more about salary negotiation success rates, scope of negotiation topics, and variables impacting salary negotiation outcomes in law library settings should head to the session on How Law Librarians Negotiate Salary.
As part of building success with your financial planning, Technology Contracts: Tips for Uncovering and Negotiating the "Devil in the Details" will be invaluable. The importance of making sure the language, clauses, terms, and, of course, prices are amenable and fair to all parties cannot be overemphasised.
A key session is Showing the ROI of Your Law Firm Library. In the current law firm environment of constantly shifting organisational structures, contracting budgets, and evolving user needs, the need to show and communicate value is essential. While meeting the value challenge is neither a quick or easy process, it is a crucial activity that law librarians need to take in order to survive - and thrive - in their organisations.
These are just a few of the highlights from the #AALL2019 schedule. I'm sure whatever sessions you attend, you'll walk away feeling inspired and full of fresh ideas ready to implement once you return to the office.