Essential guidance for re-opening your legal information service post-COVID-19
by Caroline Rowlands on August 4, 2020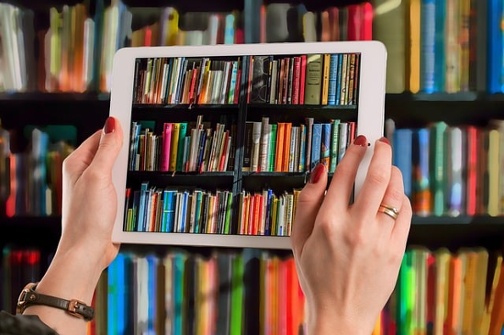 With the easing of lockdown restrictions, information professionals are looking to move back into the office, and Caroline wondered what the future of law firm libraries would look like. [Editor: I asked her to report on her LIS-LAW findings and this guest post is the result]
If this time has taught us anything, it's that a library does not have to be a physical space. Librarians have been just as busy, if not more so over lockdown because we have been opening up access and promoting the online resources that many lawyers have spent years resisting. Early on, our team identified that our library space would look different on our return to the office and we were the best people to advise our firm on how this should be managed.
I began to look at national and international COVID-19 guidance (recommended reading below), as well as reaching out to the library world to ask other professionals their opinion on how they felt their libraries would function on reopening.
Increased use of online resources
We are skilled in anticipating the demands of our users' needs, so at the start of lockdown publishers eased the pressure and frustration of working from home by being open to giving firms short-term access to texts electronically. Most librarians who contacted me said they were now able to use this time to begin investing heavily in online, in a concerted effort to move away from hard copy.
Let's be positive, at least this is 2020 not 2000 when working from home would have been a lot more difficult. Lawyers now see the benefit of online, in ways they never would have envisaged if we'd not had such extensive working from home. Even so, these decisions will always be constrained by the high cost hit to the library budget plus time spent trialling, promoting, licensing, software, training and, the biggest time-waster of all, login issues! Not forgetting that contrary to belief, not all texts are available online.
Back to our book roots
From the requests we have had, hardcopy still has its place and we have had to rapidly rethink our views on how to provide access. As librarians we don't like to deny our users access to information, but we are uncomfortable when our resources leave the building. There has been much discussion on the benefits of sending books to homes versus not being able to quickly assist if someone else needs that same content. We have even sent legal dictionaries to one of our own team member's home, as this was one of our most requested items!
How are we going to get these books back? Unfortunately, our records are only as good as the information we are given and I am sure we probably all have stories of lawyers who have sneaked in to the office for books, some even spotted and denied taking! Or whole chapters missing from loose-leafs! Come the new year, there will be a need for extensive book amnesties.
To quarantine, or not to quarantine books?
The need for hard copy has demonstrated its continued importance - but is it safe? This is why we need to consult guidance, for example the COVID-19 Guidance Cell of Public Health England's National Infection Service, Chartered Institute of Library & Information Professionals, and the Department for Digital, Culture, Media & Sport. They say that the risk from books in plastic covers handled by someone who is a possible COVID-19 case is negligible after 72 hours. The risk from books with a cardboard or paper cover is negligible after 24 hours.
Can you imagine telling a lawyer s/he is not allowed to open a book for 72 hours, when their need is always time dependent?
In the US, tests have shown that the virus is undetectable on library materials after three days. Book shops and public libraries have already started re-opening and are following this advice. Waterstones are using a quarantine system with boxes and trolleys for customers to put in any books they have touched whilst browsing. Public libraries are using a 'click and collect' type service, choosing books for patrons based on a phone call or email with their genre preferences.
This is not going to work for us. With budgets now being stretched to cover extra online resources, there are limited funds for multiple hard copies. Plus can you imagine telling a lawyer he is not allowed to open a book for 72 hours, when their need is always time dependent? A quarantine plan just does not work for the demands of a law firm. We decided that treating books in the same was any other multi use objects, such as door handles and light switches, was the best way to proceed.
Guidance on returning to the office
As information professionals, we should be taking control of how the library areas and books will be treated. Get the library on your 'Back to the Office' team's radar as soon as you can. After researching and consulting with other librarians, we felt confident in our decisions to allow access to our materials and to tell the office team how we envisaged the safe return of our service.
Our proposal stated that library materials could be used as long as users adhered to washing or sanitising hands before and after using, and not to touch their face. We did not feel it was necessary to use gloves or quarantine the books.
We explained that although the Information Services team had endeavoured to provide as much material as possible electronically, there were budgetary issues with this approach, as well as the issue of the non-availability of material in electronic form. The guidance from associations is aimed at busy public and academic libraries with different requirements, so our proposal was formulated after consultation with legal information professionals.
Recommended post-COVID-19 library signage
We asked the office team to produce signage for the following areas;
Library spaces to be limited to appropriate number of staff per space
Multiple signs with agreed corporate wording

washing hands / using hand sanitiser before and after handling books from the library shelves
not touching your face
observing social distancing rules

For satellite libraries based in rooms

one sign per library as above
additional sign about one person only being in the room at any one time
keeping only one chair in the room to discourage additional people sitting down

For personal copies of books, which might be lent to other members of the team

Add stickers to personal copies of books, reminding readers about safe handling/clean hands. Library to arrange to add these stickers to the books.
In return, the library team would;
Communicate guidelines via the intranet and training staff on safe handling and use of library areas
Support low-risk 'browsing' of books by utilising the library catalogue where possible to allow users to identify the books they required before visiting the library
Promote the use of materials available online.

make sure the intranet and catalogue was up to date with links to new online texts
promote using Knowledge Lawyers and internal communications.
We were very fortunate that our 'Back to the Office' team had clear social distancing, safety and cleaning protocols in place so we did not need to advise on this. However, you may wish to look for further guidance from the International Federation of Library Associations and Institutions (IFLA)
So what about the future of libraries?
It may be that with the increased use of online resources and publishers adding more and more key titles to their products, that the library space may find itself further diminished and we need to start thinking about how we reinvent our current spaces and service. Without a physical presence, our team has found themselves proactively embracing different methods of communication to keep ourselves and service visible and current.
Our time in lockdown should serve as a reminder that as a profession we are quick to adapt to new pressures on resources, solve problems creatively and collaboratively, and have a high awareness of our users immediate needs. It is imperative as we move into a virtual domain, that we acknowledge these skills with renewed confidence and continue to build a high profile for information professionals and libraries.
For further reading about COVID-19