Mid-July can only mean one thing - time for AALL! Last week saw 1400 Law Librarians descend on my former home of Chicago for 2016's American Association of Law Librarians Conference. With such a packed sessions program and a busy booth, choosing which talk to attend was a challenge enough in itself but a happy one to have. Over the coming weeks we'll be bringing you our recaps and reviews, featuring the best of AALL, meaning that even if you couldn't make it to Chicago you won't miss out (too much).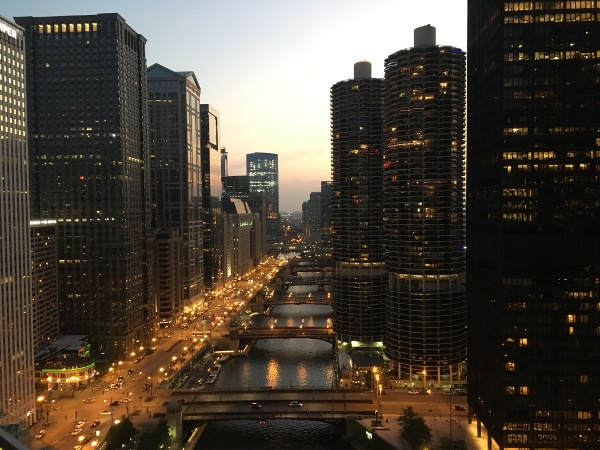 The amazing view from the brand new rooftop at the London House
Day one kicked off with a panel discussion around "Promoting the Value of Technical Services at Budget Time: Practical Advice for Directors and Managers". With Library Directors from both law firms and academic, plus Technical Services Librarians from a range of backgrounds it sure made for an interesting debate, and one that brought useful lessons not just for those working in Technical Services but for the Legal Information sector as a whole.
Our panel of greatly experienced Information Specialists
A quick poll of the audience revealed that 82% had seen technical services either reassigned or eliminated over the course of the previous three years, whilst over 70% had seen their budget decline during the same period. As Jean M. Pajerek, Associate Director for Information Management at Cornell University Law Library, so astutely pointed out
"the better we do our job, the less people know about us"
and this can lead to huge issues when it comes to demonstrating a need for your budget. Whilst the costs associated with technical services are easy to quantify, calculating their ROI (return on investment) is not so simple.
Instead, Jean recommends steering any conversations regarding budget and ROI towards the value of your work instead. Use your best marketing techniques to explain the benefits of the service you provide and how you do it uniquely well. To put forward your value proposition successfully, you will need to answer:
What's your product or service?

Who's your target audience?

What problem(s) do you solve for them?

What value you deliver to them (e.g. saving time, convenience) that will help them solve these problems?

How do you do it uniquely well? Quantify the benefits in the user's language
As Jean stated:
"In the process of doing this exercise, you may be able to decide what your most valuable services are, and which are less valuable and/or outmoded and may even be dispensable. It gives you an opportunity to assess what you are doing and why you are doing it. Is there something you can stop doing, so that you can take on something else?"
Next up was Steven A. Lastres, Director of Knowledge Management Services at Debevoise & Plimpton LLP. Building upon Jean's emphasis on showing your value proposition, the main issue that Steven highlighted here was the fact that Directors & Managers outside of the library sphere often simply don't understand what the library provides, and so we must work to ensure that our value is understood. The key here is to deliver tools to lawyers to work more efficiently and reduce costs. Lawyers don't always understand how complicated services are and usually they are not technology driven themselves. This, in turn, brings a need to work smarter and to ensure that lawyers do have access to the information they are looking for, when they need it or when they find themselves with the time to look at it.
Here Steven gave a specific example of the work they have done at Debevoise & Plimpton, where bringing current awareness into their Sharepoint through a specialized dashboard has made the information instantly accessible and up to date, as they found that the current awareness emails their lawyers were receiving weren't always as accurate as they should be. In turn, end user access through the dashboard system meant that current awareness was easily accessible, bringing the right information to lawyers when they need it, whilst also reducing the time spent troubleshooting by Librarians.
In line with this ease of accessibility, Steven also emphasised the importance of eliminating jargon, ensuring that the language you use to explain your service e.g. "information services" is always clear and easy to understand no matter the audience you are speaking to. This, additionally, ensures consistency of message across the board.
These skills can then be used whilst putting forward your case for your budget, as Camilla Tubbs, Associate Dean for Library and Technology at University of California Hastings School of Law, went on to describe. Camilla advocated that instead of discussing purely budget, one must place the focus on the entire ecosystem as a whole, and how technical services (or, arguably, whatever function you are pushing for) are a major part of that functioning properly; without technical services people wouldn't be able to find anything anymore.
As such, Camilla recommends that you place the emphasis on the narrative instead of the data. Whilst your budget naturally must be tracked, admins don't tend to be interested in the details. Instead, they want to know how the money you are assigned is being spent, and what impact it is having, "$X spent on Vendor Y" simply doesn't say enough. You can then use this approach to explain what it is that Law Libraries do when pitching for budget, this will help you to get your value proposition across to people who won't always have a clear understanding of your Library's role within the organization. Be sure to match this up with your overarching company goals for maximum impact.
Ultimately, the common theme that came out of this session - and one that I have heard repeated throughout conferences this summer, proving just how vital it is in present times - is the importance of promoting the Library's value. Aim for face time with attorneys to explain to them how to use Library Services, and show them what an impact your support can have. This will also go a long way in putting a face to your department, meaning that you are far more likely to have an external advocate for your services should the need arise.