For us, AALL drew to a close with a discussion between two prominent leaders in the Law Librarian community - Jean O'Grady, Senior Director of Research & Knowledge Services at DLA Piper LLP and founder of Dewey B Strategic, and John DiGilio, Senior Director of Research & Intelligence at LibSource and founder of On Firmer Ground. Up for discussion was the subject of "disruptunity" and the legal research revolution - a more topical theme there cannot be.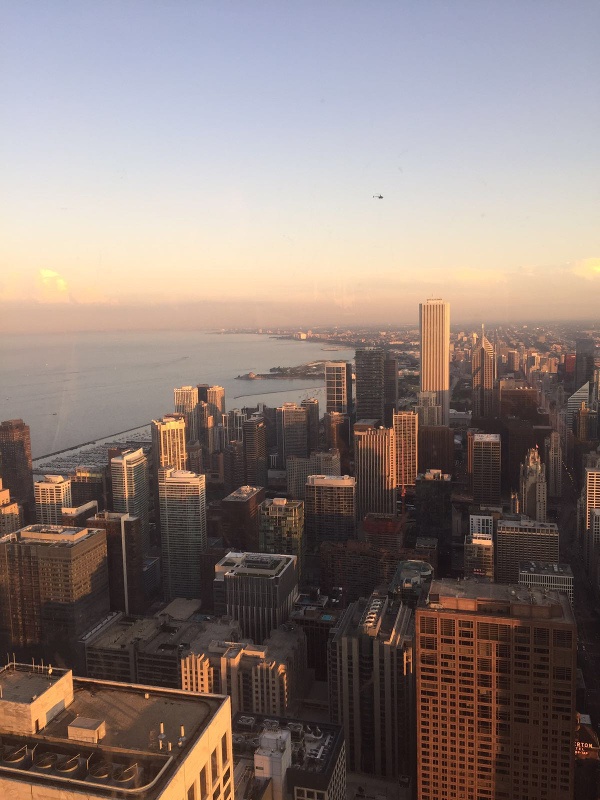 John started by introducing the session, emphasizing that the future is now; we are seeing AI, changes to practice law and disruptive technology. He went on to underline the point that disruption doesn't have to be a bad thing, there has never been a more exciting time to be working in the information industry. From the outset it was clear that the session was going to be informal, honest and upbeat, and it sure shook us all up after a very busy three days.
"The key is to embrace disruptions and change early. Don't react to it decades later. You can't fight innovation"

Ryan Kavanaugh
What is disruption?
So, it's all very well talking about disruption but what are we actually referring to? As John pointed out, everybody is talking about it at the moment but, in reality, it means so much more than simple innovation. True disruption, or rather "disruptive innovation" as John likes to call it, shakes up the entire industry, displacing established technologies or processes, to establish a brand new market.
"Welcome those big, sticky, complicated problems. In them are your most powerful opportunities."

Ralph Marston
The professor, entrepreneur and thought leader Clayton Christensen was the first to introduce the concept of disruption, referring not just to disruptive technology but to innovation and processes as a whole. He also discussed sustainable innovation, that being a form of natural evolution that is not disruptive. Instead, sustainable innovation develops through small incremental changes.
In the information sector, we see disruption in action in a number of ways:
Analytics and big data

Artificial intelligence

Lawyers and change
Big data
What is big data? The phrase seems to be inescapable.
"A popular term used to describe the exponential growth and availability of data, both structured and unstructured."
Jean explained to us why big data is so important in this sector. It has the following characteristics, admittedly some positive, some negative:
Volume -- accelerated data growth, historical data sets are now searchable

Velocity -- data is streaming at an unprecedented speed

Variety -- data is accessible in multiple formats, including email, video, text and datasets

Variability -- inconsistent data flows, daily, seasonal and event driven

Complexity -- data from multiple sources must be normalised, cleaned, matched, put into hierarchies and relationships in order to be understood
Consequently, big data enables Information Professionals to conduct more accurate analysis, leading to better decisions, reduced cost, greater efficiencies and reduced risk. Librarians are uniquely positioned to define the data that is needed and help lawyers access that which is most relevant to them. The advantage here will be gained by asking the right question in order to appropriately assess the needs of the firm at that time.
The next wave of data, Jean predicted, will be big data for client support. That is to say, instead of utilizing data for the needs of the firm in question, further emphasis will be placed upon those of the client. For example, better answers will be possible for client advisory applications through data mining to support the client's case in litigated issues, or client advisory services being able to predict the financial impact of proposed government regulations through data analytics.
As such, to emphasize once again, the Information Professional will help the Lawyer define the data needed. They will be the ones vetting the quality of information sources, asking new questions as data patterns emerge, and identifying new lines of inquiry. Jean put it best -- if everyone has the same data, the advantage will be gained by asking the right question. Lawyers need to be one question ahead of the competition and it needs to be the right one.
AI and the Librarian
John then went on to explore the impact of AI (artificial intelligence) upon the Librarianship field in further detail. AI is disruptive to the industry but brings with it a series of opportunities that must be utilized to your advantage. In a nutshell, AI delivers incredible analysis, exceptional answer capabilities and it can absorb information extraordinarily well.
However, AI cannot do it all. AI doesn't possess a gut feeling, nor common sense or creativity and nor does it improve with repetition. Machine learning can be pretty static. As such, it is you - the Librarian - who brings the common sense, creativity and who improves with repetition. There is not, and there cannot be, any competition from AI in these areas.
John expressed how exciting it is to watch the development and introduction of AI to the industry but acknowledged the difficulty of most people being nervous about its influence. He asked:
"How many times are we going to hear about the death of Librarians?"
John put a stop to these concerns, emphasizing the fact that Librarians are still in their firms and nothing drastic has happened yet - do not expect an apocalypse!
Change in your firm
The baton was then passed back to Jean who asked us:
"Why are things not changing at your firm?"
Unfortunately the most common answer to that question is that the clients are not asking for it, and this means that you are in trouble. As Jean emphasized, you need to be the one pushing for change and not waiting for it to be requested.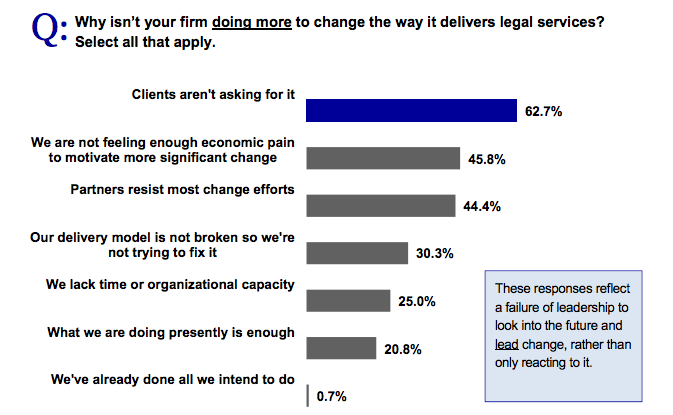 Altman & Weil (2015) Law Firms in Transition
In their latest book, The Future of the Professions, the Susskind father and son duo post three stages of transformation for the professions. Firstly, denial - we don't need to change. Secondly, the sourcing of work differently through outsourcing and low cost centers. Thirdly, and finally, comes the embracing of disruptive technologies. Jean went on to suggest that the future they put forward for Lawyers in 2025 actually sounds far more like the role of the Librarian than that of a Lawyer. The entire legal industry is based upon the sharing and redistribution of knowledge. The Susskinds describe the professions as:
"[having] knowledge that those they help do not, and their role, in large part, is to develop, curate and provide access to that knowledge."

Susskind (2015) The Future of the Professions, P188
They go on to predict a future where Knowledge Engineers will flourish:
"They will need to be skilled in the analysis of areas of expertise, both in textbooks and elicited from the heads of specialists, and techniques for representing this knowledge in online systems in a way that can be used directly by lay people or para-professionals."

Susskind (2015) The Future of the Professions, P266
Sound familiar? Exciting times ahead in the information industry.
So, are Librarians afraid of change? Perhaps. Most respondents from the American Lawyer 2016 Law Library Survey have not introduced innovations. Only 18% were involved in workflow improvement, a core area according to Jean. Whilst just 20% have introduced at least one analytics product and only 19% have implemented big data dashboards. On the upside, however, 73% plan to eliminate most of their print over the next five years whilst 71% report growth in CI work, both positive innovation indicators.
So, how can you start to drive change and innovation in your firm? Jean suggests abandoning the silo and taking your library outside of the traditional research space. She cited the Starbucks model of "working alone together" and the Apple Genius bar model as the accessible help center; such collaboration is imperative.
Opportunities for success
What do you need to succeed? Adoption, implementation and expertise, according to John. He advocated that it is the Librarian's responsibility to bring new technology to the firm, after all it is the Librarian who knows best what the attorneys need; they won't do it themselves. Once the new technology has been introduced to the firm, the Librarians are the implementation experts. As we know, it is the Librarian who knows who needs what, and when and how they need it. Remembering this throughout your strategy will reap the greatest of rewards, with the greatest opportunity for "disruptunity".