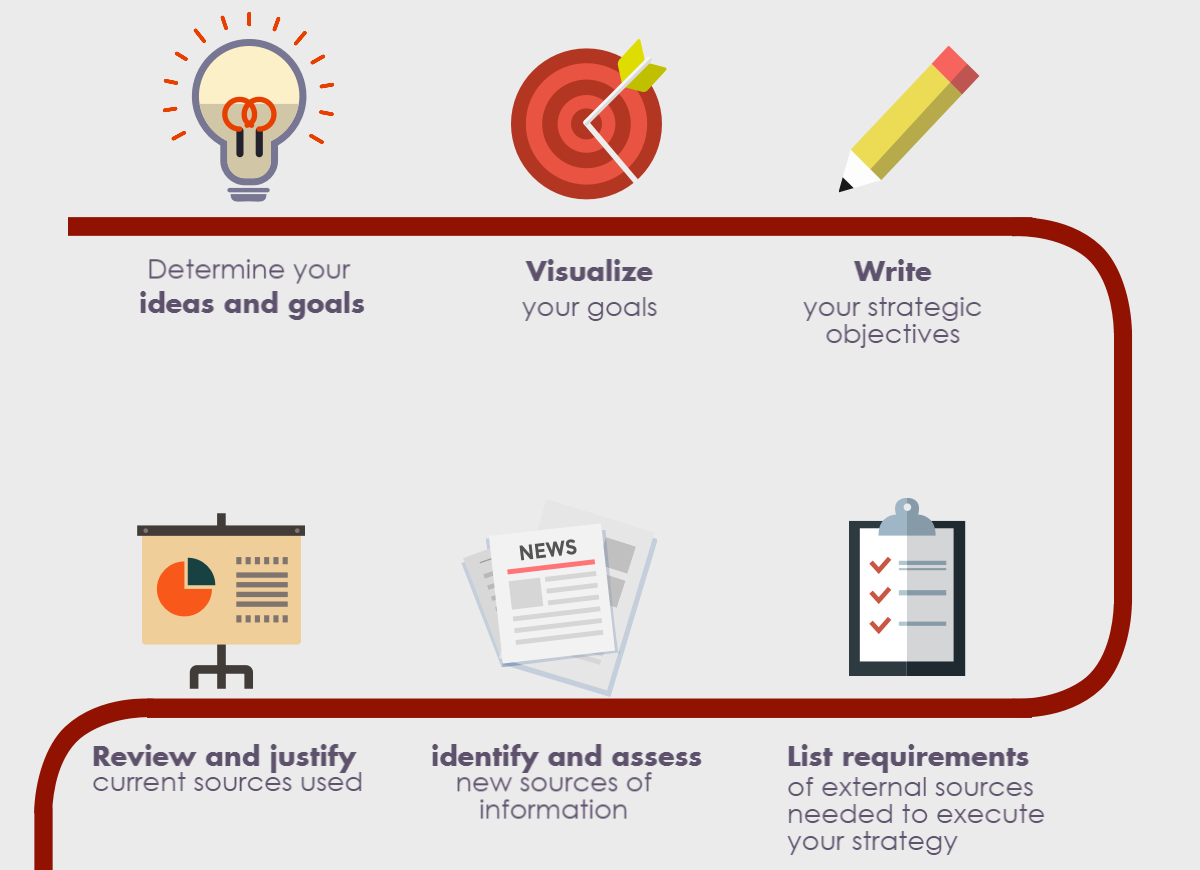 ---
1 - Build an external content strategy
Who has the time to put an external content strategy together when there are deadlines to meet and not enough staff or time? This is one of the most common justifications for not developing a strategic plan. However, most people don't realize how much more efficient you can become by simply writing your goals and ideas down on a piece of paper. Strategic planning can be that easy.
What are we trying to achieve, and what can we put in place to help us achieve these goals? Such simple questions help you focus on what the most important tasks to complete are and help you envision the end results. Great professional athletes employ mental visualization technique to improve their results. Tiger Woods, Jack Nicklaus or Muhammad Ali have been using mental visualization to improve their overall performance.
Simply put, this technique helps you take your blinders off to finally see the big picture. It also gives your team and co-workers a mental image of what you are trying to achieve.
So what type of goals should your strategy include? Depending on what you are trying to achieve, the obvious ones are to monitor specific topics such as industry trends, regulatory changes, new legislations, market news and what your competitors are up to. It's also important to think about the scope of the entire project: the reason why you are collecting all this information. To increase your current awareness? To improve shared information within your organization? To help the company make better-educated decisions?
Once your goals are set, it's time to review the sources you need to achieve your objectives.
2 - Identify and assess new sources of information
Now that you have a clear vision of what to achieve, it's much easier to find new sources of information that match your needs. Building a road map of requirements for each topic will help you prioritize which sources should be picked and what they will add to your organization's shared knowledge.
One mistake to avoid, however, is to create duplicated content. Drowning in information isn't a good strategy, no matter what industry you are in. The goal is to select one or two relevant sources that cover exactly what you need.
Listing your requirements before deciding on which sources to use is also key. They should be based on what the readers are looking for: daily news, government sources or content from private organizations? Parameters such as length of the articles, objective or subjective point of view, writer's level of expertise, location (local, national, global) are also vital to your choice.
3 - Justify your current sources
Subscribing to several premium external content sources can prove to be very costly. Choosing which ones are needed is no simple task, however staying price conscious is necessary.
What is the rationale behind using this particular source? Who is it for, and are they effectively using it? Is there any overlap with other sources? How fast do they publish recent events? How reliable is the source? Can you successfully track the usage rate of each subscription?
Estimating the return on investment for each premium content source can be quite challenging, but it's still important to try to understand the value that each subscription brings to your readers.
The right external content aggregation tool can help you track the usage of every subscription and source accurately.
4 - Contract negotiation
Negotiations take time, and rushing through the terms won't bring you any good: unfavorable terms, overpaying for services, poor customer relations, etc. To successfully negotiate a contract, you have to tackle it step by step, going through the easier aspects first, then working your way through the more difficult issues.
Most subscriptions provide some headroom for negotiations and they usually will propose great deals for renewals if they are afraid you might leave them. Allow yourself to take some time in your calendar to review all your premium subscriptions and to renegotiate the terms according to the usage your company has.
It is also good to remember that certain times of year are better to negotiate: salespeople might be able to grant better discounts before the end of their fiscal year, for example.
If you are uncomfortable with negotiating, consider someone to play "bad cop". Using two people with distinct personality traits to negotiate contracts can provide many benefits.
5 - Manage your content distribution
After you have completed all the work involved in choosing the right content under the right terms, there's one last item to tackle: your content distribution. How do you make sure your content reaches the right audience and that decision makers are reading it?
Creating an efficient content distribution plan isn't an easy task. Content overload coupled with a bad distribution process is usually the recipe for a disaster that can paralyze the entire system. Identifying bottlenecks in the process can help you find solutions.
Choosing the right content management system, or other asset management platform adapted to your specific needs, is crucial. Having your content strategy clearly formulated should help you decide if the platform currently used is the most appropriate for your company or not. Being able to automate all or most of the processes is key to making you more efficient, increasing the predictability of quality and consistency - so you can focus your time and energy on what really matters.
Download our infographic: "The Path to Better Manage your External Content and Improve your ROI":